Things are looking good as King Cannons launch their debut album, reports Scott Kara.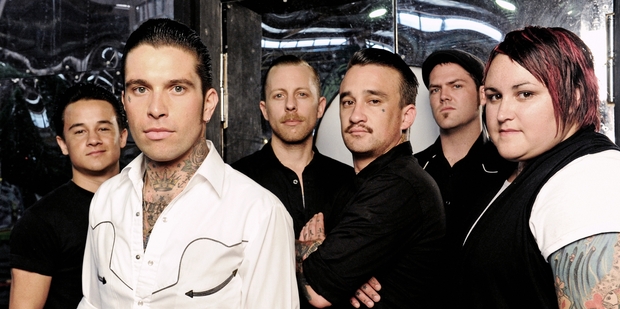 Doing hard yakka in a dusty and dirty sawmill teaches you a good work ethic, reckons Luke Yeoward. But more importantly, the mills where he has worked were "the only places that employ a guy covered in tattoos".
Indeed, the slick-looking singer, songwriter and guitarist of rising Melbourne-based Kiwi soul rock band King Cannons has many ink etchings, and laughs when he thinks back to his teenage years working in Taupo.
"On my 16th birthday my present was a fulltime job at the mill from the old man," he remembers. "I wasn't very good at school - I hated it like most kids - and I just wanted to play rock 'n' roll music."
And working at the mill meant he could do just that, and on weekends he would catch a bus to Hamilton to jam with his mates.
The music he was making back then was far from the inspired mix of simmering soul, rootsy rock, and biting punk rock that the King Cannons come up with on debut album, The Brightest Light, which was produced by Shihad drummer Tom Larkin.
But it took a long time, and a period of desperate soul searching, for Yeoward to finally hit upon the type of music he wanted to make.
"King Cannons was a result of me flipping out and changing my life," he says.
The story goes that he moved to Auckland, played in punk rock bands, and in early 2007 his life took a dark turn.
"I got to a point when I was living in Auckland when my relationship was in a terrible state, my finances were in a terrible state, my standard of living was appalling - and, you know, all these things were turning to shit all around me.
"I was struggling with these bands that I'd been playing in for years, the circle of friends I'd been hanging out in, and I just got to the point where I thought, 'F***, this is not me. I don't feel good about what I'm doing, it's not helping me, so why am I doing it?"'
He says he hit a wall mentally, emotionally and musically, so fled Auckland for the far north to work - you guessed it - at a sawmill.
"I reconnected with my own spirit and I was able to feel free to make whatever sort of music I wanted, and not being restricted by a group of people or a scene or a handbook on how to write a punk rock song."
The 26-year-old stops and thinks about it for a second, before adding with a laugh: "That sounds wanky, but it's true."
And along with bandmates Rob Ting (guitar), Mikey Ting (keyboards/piano), Jonno Smith (bass), Lanae Eruera (percussion) and Dan McKay (drums), the results are songs like the album's fist-pumping title track. It's a mainstream rock anthem in waiting, complete with wailing harmonica and even the faint sound of pinging bongos.
Then there's a steady rocker like The Cool Change, which starts out with a "tahi, rua, toru, wha" count in, chuggers such as Shot To Kill, where Yeoward's punk rock roots come through, and the fringe-shaking, old school rock sound of opener Stand Right Up.
Most striking of all is Ride Again, because though there are quieter songs on the album, it has an understated beauty and poise to it.
"I love that song," says Yeoward, "and no one really makes a fuss about that tune, but it's always been one of my favourites off the album. I love how it is really effortless. It's just constant and flowing."
King Cannons have a Clash-meets-Springsteen-style sound, but Yeoward also sounds like a fired-up Paul Weller when he sings lines like "We're too young to settle down, fight in a workers battleground".
"Springsteen, Paul Weller, and Joe Strummer, they are all greats in my eyes and they all have a love for soul and roots music."
Though Yeoward is passionate about King Cannons' music, he has a more businesslike approach when talking about where the band is at.
And things are on the up, especially since completing a 17-date European tour in May with German band the Broilers, where they were playing to between 1500 and 2000 people each night.
"For our first tour over there it was probably a step up more than most bands would do. We managed to get some help from the New Zealand Government, we chipped in a bunch of money ourselves, and our record company helped us out and stuff so we could afford to get all six of us and our tour manager to Europe. It costs a lot of money. But once we were over there all the bands were real nice, the people were great, the venues fantastic, and the hospitality was wonderful."
It's not the first time King Cannons have ventured to Europe, briefly heading to London a while back but it didn't work out. "That was too big a step, and I don't regret that it didn't work," says Yeoward.
Though Melbourne is their adopted hometown - "Australia is a more comfortable medium because it has a big enough population to sustain a career in music, if you are lucky, but small enough to have the heart and soul of a small town" - New Zealand will always be home.
"I love New Zealand and if I wasn't playing in a band and having to be where the action is I'd be in New Zealand. But we can't make a living in New Zealand."
Who: King Cannons
What: Melbourne-based Kiwi soul rockers
Debut album: The Brightest Light, out tomorrow
On tour: August 9, Hamilton, venue tbc; August 10, Powerstation, Auckland; August 11, Christchurch, venue tbc
- TimeOut