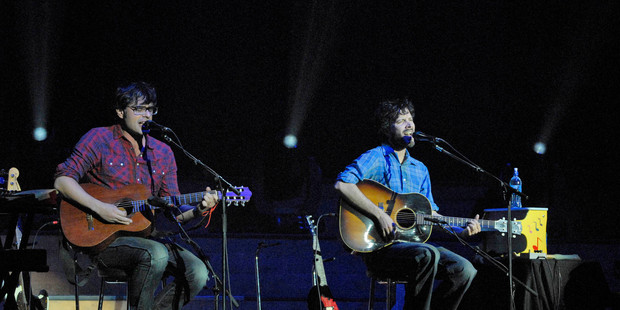 A star-studded marathon Comic Relief TV show is in the works featuring Flight of the Conchords and the All Blacks.
An announcement is due next week, but the Herald on Sunday understands the show will combine live action and pre-recorded scenes.
The news follows sightings in Wellington and Auckland of the Conchords filming scenes for a new show with Target host Brooke Howard-Smith.
Comic Relief was launched from a refugee camp in Sudan on Christmas Day in 1985, live on BBC One. At that time, a devastating famine was crippling Ethiopia.
The idea was to get a troupe of British comedians to make the public laugh while raising money to help people in desperate need.
It has since become a global movement and features regular star-studded charity events. Now, New Zealand has been added to the programme.
Howard-Smith is producing a marathon Comic Relief special for Friday, August 24.
The 4-hour show would screen on TV3 and raise funds for KidsCan, the All Blacks' official charity partner.
Primary school kids in Auckland were thrilled by a surprise VIP visit from the hit comedy duo on Friday.
Bret McKenzie and Jemaine Clement dropped by Grey Lynn School and spent several hours with students, then filmed behind closed doors.
One mother, who didn't want to be named, said her 6-year-old daughter told her she had spent the day "helping the Flight of the Conchords write a song".
"The children were very excited at having such famous people come to meet them and they all had a great time," the mum added.
Staff at Grey Lynn School declined to say what the Conchords were filming there. But the top-secret appearance drew parallels with a surprise sighting in Wellington a fortnight ago.
"Flight of the Conchords arrived in town. They were filming something for Comic Relief. They needed to use an old-looking office," Wellington journalist Rhonwyn Newson told the Herald on Sunday.
The Conchords took over an office at the Pharmacy Guild as a substitute for the messy, old office Conchords' fans might associate with Rhys Darby's character Murray.
"The guild was so pleased we were able to do something for Comic Relief," office manager Sally Walker-Simmons told Pharmacy Today. "Flight of the Conchords is world famous, so it was really exciting having them in the office."
Conchords duo keep under the radar
The Flight of the Conchords are trying to keep their new material under wraps from the rest of the world during their home tour.
Fans who attended the first two concerts bowed to the duo's wishes and refrained from posting clips of new songs on the internet.
After the opening gigs at Hastings on Wednesday and Hamilton the next night, social media and fan sites were awash with pictures and clips of the Conchords performing.
But following the first show, longstanding fan site What The Folk urged fans to show restraint with material recorded on mobile phones.
The latest Conchords' performances include up to six costume changes and a smattering of new songs.
Fans have been raving about the gigs that have kicked off with the Conchords dressed as robots and belting out their classic Too Many Dicks on the Dance Floor. Other favourites receiving airplay have included Business Time and Inner City Pressure.
A What The Folk administrator posted: "An important note for all concert-goers, Bret and Jemaine have asked fans not to post videos of new songs so we will respect their wishes just like we did during the previous tour so please do not post videos of new songs on the forum. We will eventually post the videos once the tour has ended."
McKenzie and Clement are going out of their way to keep a low profile. They declined media interviews before the tour started and in Hamilton on Thursday, security men were outside the theatre to keep photographers at bay when the duo arrived for a soundcheck.
"The guys might be big stars all over the world but they don't want to be seen as acting like big shots on their home turf," an insider said.
Waiter's lucky Flight
The Flight of the Conchords are winning fans throughout the country as they tour this month.
Waiter Sam Steevens could hardly believe it when the duo handed him a $100 tip for serving them breakfast in a Napier cafe.
Bret McKenzie and Jemaine Clement dropped into Mister D's on Thursday morning, hours after playing the opening gig of their nationwide tour in Hastings.
They were joined by their support act, American comedian Arj Barker, for a leisurely three-hour brekkie before heading off to another concert in Hamilton.
The trio joked with staff and scoffed down special doughnuts injected with custard and chocolate via a syringe.
"Our doughnuts are pretty famous and I was impressed that the guys managed to cope with a double syringe-full of filling as not too many people can handle that," Steevens said.
"The bill came to about $75 and I was delighted when they handed us a tip that was bigger than the bill. Jemaine said it was because we rocked their socks off with the breakfast.
"They also loved our granola. They bought some from us and we also gave them some for free. They joked that they weren't really comedians, they were actually secret granola dealers."