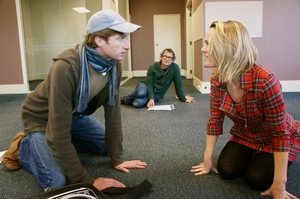 Veteran actor Phillip Gordon has returned to direct a play he hopes will make a statement with its sex, drugs, violence and black humour, writes Dionne Christian.
If you're after a safe night out at the theatre watching a show where you can sit back, have a laugh and leave never to think about it again, then you'll probably want to stay away from The Basement for the next week or so.
Independent theatre company Rebels & Robots Productions brings to Auckland controversial British playwright Mark Ravenhill's Some Explicit Polaroids which, as the name suggests, offers a snapshot of life on the more nasty, brutish and possibly short side.
Phillip Gordon, one of New Zealand's highest-profile actors of the late 1970s and 80s is back home from Australia and directs the production which stars Robert Tripe, Roberto Nascimento, Andrew Ford, Lucy McCammon, Rashmi Pilapitiya and Edward Newborn. Gordon says anyone can put on a play but he's interested in pursuing work that makes a statement.
"I'm not interested in playing dress-ups. I could not have directed it if I did not respond to it. I like the piece; I like its particular dynamic, its contradictions and the fact that there's a lot of movement in the characters."
Like Ravenhill's debut play Shopping and F***ing, Some Explicit Polaroids is theatre for those who like to be provoked and aren't easily shocked by sexually explicit material, bad language, drug taking and casual violence. It centres round Nick who is released from prison after serving a 15-year sentence for attempted murder.
He returns to his old stomping ground to find his former girlfriend Helen still working at a job they both despised as teenagers; the difference is that Helen seems to have now happily accepted her lot in life.
Meanwhile Nick's associate Tim, who's HIV positive, is amusing himself to death with a Russian rent boy, Victor, whom he bought over the internet, while stripper Nadia is convinced that letting her lover abuse her could be a path to enlightenment. Into the maelstrom walks Jonathan, the man Nick nearly killed, offering him a chance at a so-called better life - but is it?
As visceral as the subject matter is, Gordon is quick to assure that Some Explicit Polaroids isn't an all-out assault on the senses and is shot through with humour - even if it is as black as a witch's cat.
For Robert Tripe, who plays Nick, it's certainly a shot at a new kind of role. At 37, Tripe is usually cast as clean-cut aristocrats, geeks and scholarly types. Right now, he's on screen playing Chris Warner's defence lawyer on Shortland Street; he has just finished portraying Noel Coward in the play Noel and Gertie.
Tripe says he has never played a character like Nick before and didn't hesitate to accept a role which would allow him to show a different side to his acting.
"These characters aren't afraid to live life even if it means not following convention or doing what's expected of them to make a 'comfortable' life. They're making an effort to really experience all that they can and I like that."
Producer and actor Roberto Nascimento, who plays Victor, acknowledges it would be easy to label and dismiss the play's characters, but they are complex, nuanced and at times contradictory souls seeking what most of us want from life: companionship and acceptance.
"They're misfits, they're on the margins of society but I love them because they are people trying to find themselves and make connections, so there's more to them than originally meets the eye.
"That's the same for all of us. People think they know us but there's always something new which we reveal depending on what we are going through."