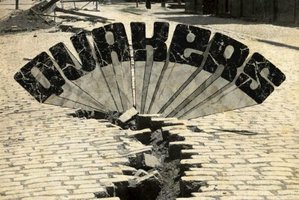 If you're looking for a quick-fire hip-hop fix, Quakers isn't the answer.
Clocking in at 41 tracks over two CDs and nearly hitting the 70-minute mark, this is an ambitious, widescreen rap compilation that comes courtesy of Portishead's chief beatmaker Geoff Barrow.
Here working under the name Fuzzface, alongside co-producers 7-Stu-7 and Katalyst, Barrow has 35 rappers working over exactly the kind of loping old school beats, ghostly samples and haunting movie quotes you'd expect from the man behind the UK's pre-eminent trip-hop act.
There are plenty of highlights: the horn-drenched stomp of Fitta Happier, Guilty Simpson's thrilling verse on the military march of War Drums, Lyric Jones' stunning turn over R.A.I.D.'s breakbeats, and the simple elegance of Soul Power (featuring a rare appearance by rap group Dead Prez).
There's an obvious debt being paid to early 90s backpack rap - think A Tribe Called Quest and Pharcyde - on tracks like What Chew Want's rumbling horn riffs and Sign Language's pared-back bass groove.
But with so many tracks, every dull moment is surpassed by five great ones, meaning Quakers is a mostly successful exercise.
It also proves tense Portishead-style beats make great rap tracks. The only question is, why did it take so long?
Stars: 4/5
Verdict: Portishead beatmaker does good with debut rap album.
-TimeOut