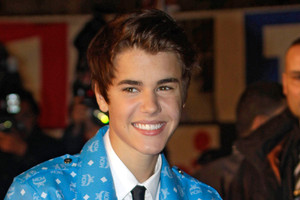 Justin Bieber can't move his eyebrow after running into a glass wall.
The pop star suffered a concussion after hitting his head backstage at a surprise performance in Paris last week. It has left him with a "weird" sensation above his eye, he said.
"I got in a fight with a glass window yesterday, and in result I can't move my eyebrow," he said in a video.
"There's no wrinkles on this eye. How weird is that? There's some weird stuff going on there."
The 18-year-old managed to complete his performance after the accident, but passed out briefly in his dressing room afterwards.
He Tweeted: "Just smacked my head and needed some water. All good. I'm Canadian. We are tough. LOL. It's all good. Just gotta take it easy the rest of the night. Back at it again for you guys tomorrow. Thanks."
This isn't the first time Bieber has hit his head walking into glass. He was caught on camera walking into a revolving glass door in May 2010, leading him to jokingly tweet about getting revenge on the transparent material.
He wrote: "I will see u again glass. I will have my revenge. Bieber vs glass. MGM Las Vegas 2013. LOL. Gotta Laugh At Yourself."
- BANG! SHOWBIZ