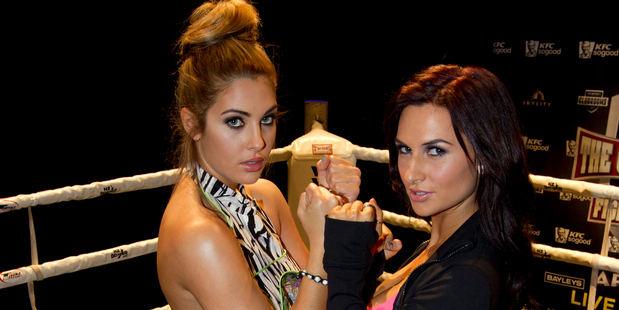 Reality TV star Rosanna Arkle reckons she can knock out glamour girl Jaime Ridge when they meet in the ring in July.
Arkle, from TV3's show The GC, has been training to take on Ridge in the undercard match at the Godfather of Fight Nights, featuring a bout between Shane Cameron and Monte Barrett, on July 5.
Arkle kept up with her bikini-clad image when she spoke to media in Auckland's Sky City this morning after flying in yesterday.
"I just did this for the challenge. I think I'll knock her out and then get some KFC," said Arkle said.
Ridge said she was inspired to get in the ring by Hayley Holt and Paige Hareb, who competed in last year's Fight for Life.
"I found it really inspiring what Hayley and Paige did to be honest with you, and it's a challenge.
"I'm all about stretching my boundaries and doing new things so it'll be good, yeah."
Ridge, the daughter of former Kiwis captain and All Black Matthew Ridge, has been training for a week with former Warrior Monty Betham.
Betham said she had some of her father's traits.
"(Matthew Ridge is) a guy who had mental toughness and the ability to push pain barriers and so on. I've been very impressed with the first week of training"
Betham acknowledged there were some people who would watch the fight to see Ridge being hit.
"I think in boxing there's always two sides and some people come to watch you win, some people come to watch you get put on your bum. That's the great thing about it and I can tell you that Jaime's working really hard to make sure that she doesn't get put on her bum."
Ridge said she hoped the public was behind her decision to fight.
"I hope everyone's behind me. I think we'll see as everything unfolds but, yeah, I guess I'm just hoping that I've got some supporters."
The 18-year-old model is touted to appear in a new reality TV show featuring her mother, Sally, which could include footage from the fight.
"The reality TV show isn't actually confirmed as of yet but they've been following me around and filming me through this whole process so if it does make it to air everyone will see what I'm going through."
Ridge, whose interest in boxing may have been piqued during her short-lived romance with All Black Sonny Bill Williams, said her newfound celebrity status was a "challenge".
"But I guess I put myself out there. I accept criticism and that sort of thing. I try not to pay much attention but I guess it comes with the name so I just do what I do and try my best."
Sally Ridge told APNZ she was "very nervous" about the fight.
"I can't imaging Jaime getting hit, let alone getting into a ring and fighting for three rounds of two minutes, which is quite outrageous, I have to say, but she's decided she's going to do it so I'll back her 700 per cent.
"I think she's very strong-willed and I think she'll give it 100 per cent. She's quite a trooper when it comes to this sort of thing, or anything actually. She's been training really, really hard. She'll give it her best."
Arkle, who is rumoured to be fighting in a bikini, said the training had been "intense".
"This is completely new to me; I didn't even watch boxing before, didn't know anything about it, but I really feel like I've picked up a lot in my first week and a half."
She was trying not to think about getting punched in the face.
"I guess I'll just have to learn how to box properly. I think the adrenaline will be bigger than that so I will probably forget about all that sort of stuff.".
- APNZ