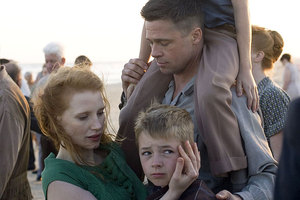 A film starring one of Hollywood's most bankable stars has topped a list of the worst-rated movies by customers of online DVD rental outfit Fatso.
Tree of Life, starring Pitt and directed by Terrence Malick, topped the list, closely followed by alien invasion movie Skyline and Will Ferrell police comedy The Other Guys.
Other films in the top 10 include Buried, Monsters, Sucker Punch and The Green Hornet.
Fatso said the list was compiled of movies in order of the number of times they had received the lowest rating possible by viewers.
It said arthouse films starring big name Hollywood stars seemed to fare the worst.
"It's quite a startling, bizarre, funny list (and) definitely shows a snapshot of the sort of genres that aren't too popular with the majority out there, (like) artsy movies with big stars, like The Tree of Life, The American (and) Black Swan."
Fatso claims to be New Zealand's largest online DVD rental service, and has been running since 2004.
Fatso's top 10 worst-reviewed movies:
1. The Tree of Life
2. Skyline
3. The Other Guys
4. Buried
5. Monsters
6. The American
7. Sucker Punch
8. The Green Hornet
9. Somewhere
10. Your Highness
See the full top 50 here.
- Herald online