Behind all that bravado, Kiwi crew Home Brew hope to deliver life lessons, discovers Paula Yeoman.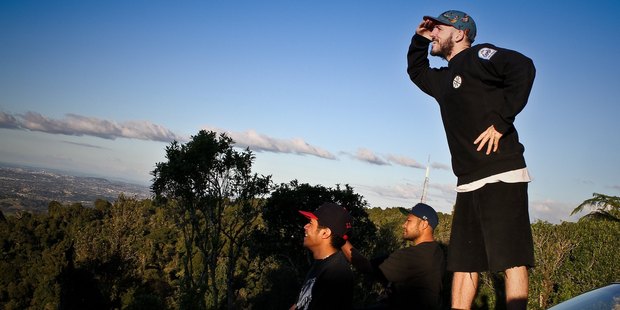 Kiwi hip-hop crew Home Brew have often courted controversy and no doubt will again with their self-titled debut album, which is packed full of tales of drink and drugs.
But MC Tom Scott urges the haters to delve a little deeper because, behind the bravado, is a serious side with some poignant life lessons.
"It's never going to be a strong message that you can hear; it's just me reflecting on my life, really. I've been through some experiences that other people might relate to," he says.
"I talk about some quite scary stuff in there, you know, from suicide to drug dependency. I hope it's something that can make things easier for people."
And it's clear New Zealanders are relating to the Auckland-based trio made up of Scott, Lui Slick and Haz Beats. The double album rocketed to the top of the iTunes chart on the day of release and debuted at No1 in the official Top 40 charts.
"It's crazy. Adele and Norah Jones are sitting below us. It's ridiculous, in my mind.
"Maybe it's a bit of the sheep factor," ponders Scott.
"People haven't heard of us but they've heard we're popular and they're getting it [the album] because of that.
"I'm just glad our music can be exposed to the audience we complain about, people who don't get to listen to proper music. We've got to eat our words now because the masses are taking to it."
It's sweet success for Scott who came close to giving up his dream of making music.
"I was so scared to go against the grain for so long. I went to Dunedin to study neuro science, believe it or not. I've had jobs digging holes, delivering mail, cutting grass. I always thought I had to do that stuff.
"It'll be cool if we see some money coming in from this. I can pay off my student loan. But I think this is the definition of making a living. I'm living, man. This is me making my life."
Home Brew's self-titled debut double album is out now. Visit homebrewcrew.co.nz for upcoming gigs.
Click here to watch Home Brew perform Dedicated To for nzherald.co.nz
- Herald on Sunday