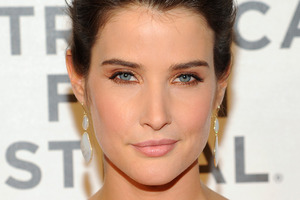 The Avengers star Cobie Smulders has set a wedding date in September, more than three years after becoming engaged.
The 30-year-old actress' comedian partner Taran Killam proposed over the Christmas break in 2008, and she gave birth to their daughter, Shaelyn Cado, the following May.
The couple chose to concentrate on being parents before becoming husband and wife.
She had previously said: "We're focused on the baby right now, and when we actually have a second [child], then we'll start thinking about that [getting married]."
While she may not be pregnant, her newly-released Marvel's motion picture - which stars Scarlett Johansson, Samuel L Jackson, Robert Downey Jr, Chris Evans, Chris Hemsworth amongst others - is doing extremely well at the box office internationally.
She revealed after a whirlwind promotional tour with her castmates they have only recently had time to organise exchanging vows.
Cobie told Us Weekly: "We finally have time to sit down and plan this wedding."
But she admitted their three-year-old little girl is more excited than them about their legal union.
She added: "She really wants a dress."
- Bang! Showbiz