After Slumdog Millionaire, Freida Pinto's acting career took off into the international big time. But now she's back in India, remaking a British literary classic. She talks to Helen Barlow.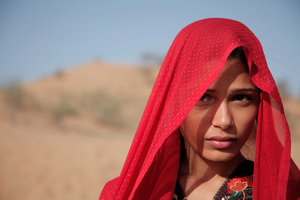 Freida Pinto experienced the heights of fame, after co-starring with her now boyfriend Dev Patel in the Oscar-winning Slumdog Millionaire, her first film.
Eager to strike while the iron was hot she then appeared in a run of high-profile films, again hitting the jackpot with Rise of the Planet of the Apes, even if Immortals, Miral, Black Gold and Woody Allen's You Will Meet a Tall Dark Stranger all disappeared without trace.
She has also worked with Michael Winterbottom, a director who, like Allen, loves writing stories around female protagonists. Pinto, a Mumbai native from the Catholic middle classes also wanted to make a movie back home.
So when Winterbottom, a Brit with a penchant for Thomas Hardy, offered her the title role in Trishna, his third reworking of a Hardy text to be set in India, Pinto jumped at the chance.
Trishna, based on Tess of the d'Urbervilles, is set in Mumbai and also in Rajasthan, a poor rural area where traditional values hold fast.
As with Winterbottom's previous Hardy adaptations, Jude (a version of Jude the Obscure starring a 20 year-old Kate Winslet) and The Claim (a reworking of The Mayor of Casterbridge in the American Wild West starring Sarah Polley) the story is about the cultural and social upheaval brought about by an industrial revolution.
While Hardy was writing about 19th century England, Winterbottom has effortlessly adapted the story to the rapidly industrialising India of today.
All three movies are stories about tragic, beautiful heroines who we come to love. So when an audience member, following Trishna's world premiere at the 2011 Toronto Festival, asked why Winterbottom had cast Pinto in the role, the male convenor couldn't help but quip, "Well, I can think of one reason!"'
Twenty-seven-year-old Pinto, like a young Penelope Cruz, is perfectly proportioned and gorgeous. She also has a natural acting talent, in fact a general naturalness about her that comes through on screen. While Pinto's statuesque posture could be the result of her modelling days, she doesn't like to be reminded of her former career, even if she still is one of the faces of L'Oreal.
"I never wanted to be a model for more than two or three years," she explains. "I pretty much knew that the whole modelling thing was my pocket money as I didn't want to be asking my mum and dad for money. I wanted to be independent financially."
Pinto denies reports that her bank manager father and high school principal mother wanted her to pursue a more conventional career, "Oh, that's just hearsay," she retorts.
"My parents were very independent themselves so they wanted me to pick any career path that I wanted, but to do it honestly and sincerely in the way they had chosen theirs."
Certainly she is prepared to get down and do whatever it takes in her films - and Winterbottom can be more demanding than most directors. He may hold the screenwriting credit here but as with his other briskly made films the action was improvised and the actors had to constantly be on their toes.
"It is an amazing style of dealing with actors," Pinto admits with a chuckle. "It keeps you more grounded, there are fewer distractions and you can concentrate on your part. You are not going back to a fancy trailer to change, you are just changing behind a tree or in a car and, you are constantly thinking, 'Okay, this is what I am going to do now."'
It also helped that her co-star, the up-and-coming London-born Oxford-educated Riz Ahmed, had already experienced the Winterbottom approach when he appeared as a tortured prisoner in The Road to Guantanamo. In the new film though he is more the torturer.
Trishna follows a 19-year-old educated lass from rural Rajasthan who is forced to support her family after an accident destroys her father's jeep. She moves to the city to work for Jay, the spoiled son of a wealthy hotelier (a composite of Hardy's libertine Alec and weak Angel) and they fall in love. Jay seduces her, she falls pregnant and she has an abortion. Her life permanently disgraced, Trishna becomes enslaved to Jay's every whim.
Pinto, who had first read and loved Hardy's 1891 novel in high school, took the film's many tough scenes in her stride.
"It is your job. You need to know that this is a scene you are doing so it didn't feel like torture outside of the cut that we occasionally heard on Michael's set. You never hear a 'rolling' and 'cut' and 'action', but yeah, it felt like we did a good scene. I think we got the story out there. Riz is a very respectful actor so I never felt uncomfortable."
Pinto is supportive of the film's theme of educating the masses and updating social mores in India.
"Education has spread out in places like Mumbai and Delhi," she says. "There is not so much that way of thinking where women are looked upon as a disgrace if they get pregnant before marriage or whatever. Unfortunately, with education not being that big in the remote parts of India, it is a bigger challenge for them to face these issues and I don't think we can blame them for it."
What was it like to finally film in India after all her international films? "There is something very magical about that place where you don't have to go to all that effort to get into your character," she replies. "Your senses get completely bombarded; everything is so vibrant that you automatically fall into character. It was amazing to go back and work there.
"I love India, but my work keeps me away for the major part of the year. I've always been one who has loved travelling, so while I miss it, I wouldn't want to be based in one place and be unable to travel. I would miss that more. My desire to go out there and experience new cultures and new places is very strong."
Interestingly like Ahmed, Patel (currently in The Best Exotic Marigold Hotel) was born in London.
"Oh, it doesn't make any difference," Pinto says, "because the culture, the ethnicity and everything is Indian as well. Both of us love travelling and that is a good part of what makes our relationship work so well."
Who: Freida Pinto
What: Trishna
When and where: At cinemas from May 24
Also: Slumdog Millionaire screens TV3, Sunday, 8.30pm
-TimeOut