Director Tim Burton is at it again in his latest gothic farce, Dark Shadows but, as he tells Des Sampson, this one reflects his own life as an outsider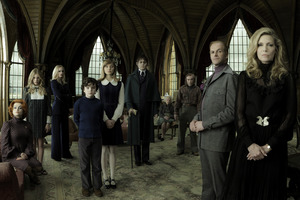 For Tim Burton, Dark Shadows risks being one of his most Tim Burton movies yet.
All his trademarks lie within. It's got Johnny Depp (their seventh movie together). Like his Batman films, Charlie and the Chocolate Factory and Planet of the Apes, it's a pop culture retread, inspired by the cult 60s television show of the same name.
And like Beetlejuice, Sleepy Hollow and Corpse Bride, it's a comedy-horror - equal parts giggles and gothic.
But for all the familiarity, Burton says this one's personal.
It's influenced by when Burton was a young kid - growing up in Burbank not far from the Disney studios where he first got his start - who found solace in horror flicks and the black comedy of TV shows like Dark Shadows.
"Since I was a kid I've watched a lot of television - probably too much - and have always been interested in horror films," he smiles. "I actually started watching Hammer Horror films when I was 4 or 5, as well as Roald Dahl's Tales of the Unexpected.
I think those childhood inspirations always stay with you, which is why I make the movies I do."
Burton's unhappy childhood, which saw him flee home at 13 to live with his grandmother, is well-documented. It's shaped a number of his films, notably Edward Scissorhands, which is loosely based on Burton's own childhood feelings of abandonment and alienation. It even underpinned Charlie and the Chocolate Factory, with Burton's take including a backstory explaining why Willy Wonka is bonkers: his tortuous, fractured relationship with his father.
"Yeah, I had a pretty dysfunctional childhood, so grew up resisting family and tried to escape from home when I was young," he says. "I was forever hanging out with other people's families and seemed to make friends with Italian kids - probably because their families cooked, so I'd get invited over for dinner.
"It's definitely affected me, because if you've ever had that feeling of loneliness - of being an outsider - it never quite leaves you," he sighs. "You may be happy or successful but ultimately those childhood feelings stay with you; affect the way you are and [it affects] how I make films."
However, Burton admits that his view of family life has changed since becoming a parent, with partner Helena Bonham Carter, to Billy Raymond and Nell.
"Having a family of my own has made me reconsider things and, as I grow older, I've realised what an important part of your life this strange, chaotic, cracked thing we call family is," he says, nodding knowingly. "Whether you're rich or poor, there's this weird little bubble - this strange dynamic - in everybody's life, called family, which I find truly fascinating."
Dark Shadows is also a perfect marriage of his newfound appreciation of family life and his passion for ye olde gothic horror. Like the original, it tells of 200-year-old vampire Barnabas Collins, who's unceremoniously resurrected from his grave and has to confront domestic life with his dysfunctional, modern-day descendants. "There was a generation of kids who'd run home from school, not do our homework and watch Dark Shadows," he says. "To that small, weird group of people, it's something very special - although most people probably just see it as a really odd, badly acted, cheesy show about vampires."
To help enliven his deadpan fantasy, Burton summoned familiar souls like Johnny Depp, as Barnabas, and Burton's partner, Bonham Carter, as psychiatrist Dr Julia Hoffman. He also roped in Michelle Pfeiffer (Catwoman in Batman Returns) as the family's matriarch, Elizabeth Stoddard.
"Both Johnny and Michelle were fans of the series, so together we tried to pick out the things that we liked about the original; like its weird tone, then tried to recreate that," enthuses Burton. "We also liked the idea that Barnabas is a reluctant vampire - he's more concerned about being locked away for 200 years and coming back and not knowing what the hell is going on, than being an active vampire.
"Actually, one of the main things about Dark Shadows that I always found intriguing, is that it tried to link the supernatural with real life issues, like how to keep a family together - whether they're dead or not - and the feeling teenagers have when they're growing up: your body's changing, you're angry and you think nobody understands you.
"Being a tortured soul is something I understand well because it's exactly how I felt growing up - and still do. It's like you're not part of society - you don't belong - and you're at odds with the world. That's something I wanted to recreate with this."
However, despite being a homage to the original series, Burton's take on Dark Shadows is not a faithful adaptation. Though it does retain a swingin' early-70s setting - including a cameo by Alice Cooper, who features on the soundtrack alongside Iggy Pop, T. Rex and Barry White.
"I never intended to redo or remake Dark Shadows, because that would be impossible," he insists. "After all, there are [more than] 1000 episodes and countless characters, so recreating it would be impossible. Instead, I just wanted to recapture the weird spirit it possessed, which made me like it and want to watch it."
As you'd expect from any film by Burton, it's suitably dark and disturbing but also imbued with comedic moments and deft insights into the wonders of family life - albeit a vampire one.
"There are humorous moments because the whole notion of having this supernatural family with everyday problems is quite funny," he says. "But I never intended it to be a riot of laughs. I wanted it to be a mix of melodrama, emotion, light and dark, and humour, just like the original was.
"You know, I'm probably not the best judge of whether it's comedic or not - because I can find humour in anything," concludes Burton. "What I think is funny other people don't. That's why you should never take me to a serious play, a wedding or a funeral, because I usually burst out laughing at the wrong moment.
"I think it's because a part of me is always able to see the funny side of things, even if it's serious or tragic."
Who: Tim Burton.
What: Dark Shadows, his seventh film with Johnny Depp, based on the 1960s sitcom about Barnabas Collins, a vampire brought back to life 200 years after being entombed.
When: Opens May 10.
- TimeOut