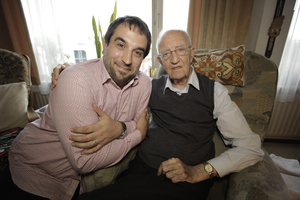 Pick of the week: Funny Roots
When unashamed poo-and-wee joke-maker Steve Wrigley travelled to Holland to see his extended Dutch family he was a little worried.
He hadn't seen the Dik family - as you can imagine he cracks a few jokes about that one - since he was a young lad and remembers them being quite "straight and strict". These qualities were also something he presumed true of Dutch people in general.
Before he left, his mum, Angela, advised him to "keep it simple, not offend anyone, and you'll be fine".
But, as Wrigley says, "I can't help being offensive."
However, as he discovers in the first episode of Funny Roots, a new comedy-meets-genealogy series, the Dutch "love being inappropriate" which connects perfectly with his brand of comedy.
From week to week the show will feature some of the country's best stand-ups who visit the country of their birth or ancestry to find out about their funny roots - and to ponder questions such as, "What makes New Zealanders funny?" and "Is comedy in our DNA or does it come from somewhere else?"
Other comics taking part are 7 Days regulars Paul Ego (Britain), Ben Hurley (Northern Ireland), and Jeremy Elwood (Canada), Westie veteran Ewen Gilmour (Czech Republic), as well as Jarred Christmas (Scotland), Cori Gonzalez-Macuer (Chile), and Irene Pink (Niue).
They find out what makes people laugh in different countries by observing the culture, meeting local comedians, and getting together with members of their family.
The series also considers whether people in different countries laugh at the same things as Kiwis, or is their humour completely different?
The ultimate test comes when the comedians perform stand-up comedy in front of a foreign crowd. In Wrigley's case, he found he had to come up with an almost entirely new show because, as his cousin Karin pointed out to him, in Amsterdam his "stoner" jokes are "everyday life".
But he finds plenty of good comic fodder in Holland, especially about their "racist" Christmas traditions.
As well as having many laughs along the way, and taking the mickey out of his family name, the highlight of Wrigley's trip is a touching meeting with his grandfather, Bas. And the 95-year-old, who lives in a resthome near Amsterdam, has some sage and rather sweet comic advice for young Steve.
When: Tuesday, 8pm
Where: TV3
What: Comedians trace comedy family ties
Drama pick: Shortland Street
The sun is going down earlier and slippers are coming out, which means the time has come for Shortland Street's winter season.
As the series builds towards its exciting 20th birthday anniversary episode this month, Shortland Street will be running for one hour every Monday evening, and this week the drama ramps up as conniving and manipulative Hayley gets even more conniving and manipulative.
Having overcome several obstacles in her plan to get her claws into Chris Warner, she's not about to let an opportunity pass when she spies Chris having trouble connecting with his son.
Chris is at a loss on what to do to fix the problem and Hayley devises a plan to heighten the rift in the family. Chris is horrified when Hayley lays her cards on the table and reveals her true intentions.
When: Monday, 7pm
Where: TV2
What: Hour-long winter episodes
Finale pick: Go Girls
Britta is preparing to make a happy step forward into the future with banker Ross, and is determined that her daughter will grow up with a strong father figure.
But there are a few admirers who selfishly oppose her plan. Like Brad and Leo. As they devise a last-ditch effort to stop her from getting what she really wants, Britta finds herself faced with a mystery man who she never thought she'd get to meet.
Also proving problematic for Brad is bad-boy brother Will - he hasn't made good on his promise to quit drugs and Brad doesn't want to run the bar with someone he can't trust.
In a heady mix of love triangles and quadrangles and difficult families, everyone's plans seem to go awry. But will there still be a wedding for a happy couple?
When: Tuesday, 8.30pm
Where: TV2
What: Who's getting married this time?
Comedy pick: The Simpsons
Reaching the big 500 may be a momentous occasion in the history of The Simpsons, which first screened in 1989, but in typical Simpsons' style, Homer, Bart and the rest of the clan find themselves on the outer in Springfield during this 500th outing.
"We explore their emotions as they find out that everyone hates them," says executive producer Al Jean. "The point is to kick them out of town for all the crap they've pulled over 500 episodes."
After they are sent packing they are forced to live in a shantytown outside Springfield. When they try to make their way back home they are met with hostility from Springfield's residents and resolve to make the most of their home.
Guests include WikiLeaks founder Julian Assange, and bluegrass singer-songwriter Alison Krauss has recorded a special version of the theme song.
When: Sunday, 7.30pm
Where: Four
What: Happy 500 episodes, Homer
Guest picks: House and Glee
Irrepressible Scottish comedian Billy Connolly makes a guest appearance this week, playing the part of an aging romeo. When Dr House's mother (played by Diane Baker) comes to stay she brings her new lover and surprises her son with news of their relationship. House isn't too impressed to find his mother padding around in a bathrobe while Connolly is naked between the sheets.
And over at McKinley High, sexy Spanish teacher David Martinez - aka Latin pop star Ricky Martin - arrives to inspire the Glee club. The all-singing-all-dancing teacher wins the students over with his captivating rendition of LMFAO's I'm Sexy And I Know It. Later, he teams up with cheerleader Santana Lopez to perform La Isla Bonita.
House
When: Sunday, 9.30pm
Where: TV3
What: A little Scottish romance
Glee
When: Friday, 7.30pm
Where: TV3
What: A hip-shaking Spanish teacher arrives
-TimeOut