Martin Sheen tells Helen Barlow why one of his famous sons told him to go take a hike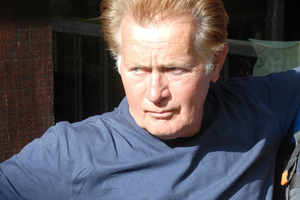 Martin Sheen takes a rest on his Spanish pilgrimage in The Way.
Martin Sheen is, of course, the father of Charlie. He's also a man of many memorable roles from Captain Willard heading into the heart of darkness in 1979's Apocalypse Now to President Jed Bartlet in television's The West Wing.
He also put in some madcap appearances as Melanie Lynskey's father on Charlie's former sitcom, Two and a Half Men. In real life, the 71-year-old Sheen, a veteran Hollywood liberal activist arrested many times in protest actions, comes across as a man excited by just about everything - a famously devout Catholic, he proffers a gift of rosary beads. And faith is a theme in his latest film, The Way, which is directed by his other son, sometime actor Emilio Estevez, who retained the family name.
The Spanish-Irish Sheen senior was born Ramon Estevez and started using Martin Sheen when he was a struggling actor. He's never officially changed it.
Unsuprisingly, he's a big fan of his latest director, having known him for some time. "Emilio has such generosity, a sense of humour and a unique vision," he says of his eldest son with whom he has already worked, on the 2006 Kennedy movie Bobby. "He loves actors and he gets very excited about actors working together, which is the essence of film-making."
The Way, a story of spirituality featuring a ophthalmologist (Sheen) who tries to complete a Spanish pilgrimage started by his late son (Emilio, seen in flashbacks) might not sound like a fun ride.
Yet as the cantankerous coot embarks on his journey on foot along The Camino de Santiago in Spain he gathers some unlikely - though ultimately lovable - friends and we feel as if we are going on the journey with them.
"It took me somewhere too," says Sheen, whose walking of the Camino with his grandson Taylor, Emilio's son, inspired the film.
Sheen's own emigrant father had grown up near where the walk terminates in Santagio de Compostela.
"I think that the film, without beating people over the head, is a journey to quell the yearning in our souls. All of us are broken and frightened and confused and insecure and we are yearning for transcendence. Some people go with drugs and alcohol and some people with power and money and some with sex while others turn inside. By delving deeper inside they are able to go outside and realise that everyone is in the same condition to a greater or lesser degree."
Gradually the group in the film, comprising a Canadian divorcee (Deborah Kara Unger), an Irish author with writer's block (James Nesbitt) and a goofy Dutch pothead (Yorick van Wageningen) reveal things about each other.
Sheen's Tom though keeps everything close to his chest.
"This guy is very angry and very arrogant and conservative and he doesn't want any part of the other pilgrims particularly," Sheen explains. "He wants to be on this journey and he thinks he can do it on his own."
Watching the sardonic Tom in the movie we can see where Charlie gets his sense of humour.
"Oh I wouldn't know about that, because his mother has a great and very subtle sense of humour," says Sheen of Janet Templeton, his wife of 50 years with whom he in fact has four children, Emilio, Ramon, Carlos (aka Charlie) and Renee.
"Janet would sting you, and she is so clever and bright and funny. I think Charlie probably gets it more from her because she is very deadpan about it too."
How difficult has it been to be a father to two famous sons who have had difficult times?
"We can't choose our families but we can choose the love," responds Sheen, who has long been very close to Charlie (he will soon appear as Charlie's on-screen father in the new series Anger Management) and has become best friends with the more retiring Emilio, since they have worked together on The Way - they actually live next door to each other in Malibu, where Emilio has a vineyard.
"Maybe a child's only sin is a rejection of love," Sheen says. "I think that is a horrible sin. As parents, you can only love your children and be yourself." He then riffs on the parable of the Prodigal Son in lieu of discussing Charlie's addictions and burnout that led to his being sacked from Two and a Half Men.
"Of course, all of us have been prodigal. You just don't know you are hurting people sometimes."
Then again, Sheen senior suffered his own wild times - like the booze-fuelled heart attack on the set of Apocalypse Now. A low moment of his life?
"No, it was the lowest moment of my health, but not my life. My wife was very supportive and I began to get well that afternoon when I was taken to the hospital and she finally caught up with me. They were wheeling me down this corridor and lights were flashing and this little face appears and she smiles and leans down and whispers in my ear, 'It's only a movie, babe!"
Lowdown
Who: Martin Sheen
What: The Way directed by son Emilio Estevez
When: At cinemas now
-TimeOut