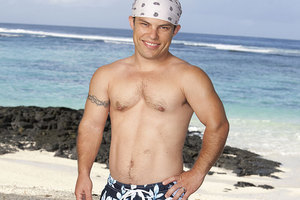 The first little person to play Survivor says he was bullied during his stint on the show and is yet to receive a public apology from the culprit - infamous villain Colton Cumbie.
Leif Manson, a phlebotomist from San Diego, became the tenth person to leave Survivor: One World after falling victim to an all-girl alliance, led by Kim Spradlin.
Two men and six women are left competing for the show's US$1 million prize.
Leif, 27, told nzherald.co.nz he was yet to receive a public apology from Colton, who branded him a "munchkin" because of his shortness.
"I've had a lot of experience with bullies and very mean people out there," he said.
"You have to rise above all of them and just know in your heart that you're so much better than these people and that their lives are absolutely miserable because they have to make everyone else's lives around them miserable just to make themselves feel better."
Colton, now known as one of Survivor's nastiest players, had his time cut short on Survivor after being medically evacuated over a bacterial infection.
Leif, 27, said Colton's illness may have had something to do with his attitude towards his tribe mates.
"He really offended every race I can think of. The words that would come out of his mouth were really shocking and surprising. Maybe it was because he was in so much pain, towards the end he was getting worse and worse.
"He really needs to watch his back from now on - he pissed off a lot of people."
Despite the criticism from Colton, Leif said his height had little impact in challenges.
"My size was actually to my benefit," he said. "I could probably only think of one game where it was definitely a lot harder and that was the basketball challenge.
"(For) everyone else the water was up to their knees, for me it was up to my waist. I had to work my butt off to do anything."
Leif said the all-female alliance deserved to be running the show.
"Women are very sneaky and cunning and really interesting creatures. They are really good at lying and can lie straight to your face and we didn't catch them or call them out on it.
"Ultimately it was a huge bad on our part for not talking (enough) to the other guys."
He encouraged anyone with height disabilities to apply for the show.
"It was a very humbling and rewarding experience, to all little people out there, never ever let your dreams die and always if you have a dream just keep working at it, keep going for it and you will succeed.
* Survivor: One World screens on Four on Sunday nights. nzherald.co.nz will interview every contestant as they are eliminated.