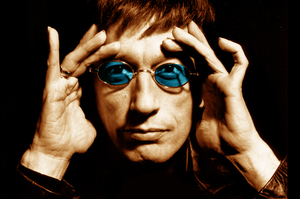 Robin Gibb told doctors he "wants to live no matter what".
The Bee Gees' star has colon and liver cancer, and doctors feared he could die after he contracted pneumonia and slipped into a coma, but his wife Dwnia says he has never stopped fighting.
In an interview with The Sun, she said: "The doctors asked Robin if he wanted them to do everything in their power to save his life - or if he felt the time would come when enough was enough.
"He told them, 'There will never be a time when enough is enough. I want to live no matter what."
Robin astounded doctors by waking up from his coma earlier this week, and is now able to chat with his family, including brother Barry and son Robert-John and breathe with the aid of a mask.
After being diagnosed with liver cancer, the Stayin' Alive singer underwent chemotherapy and was thought to be in remission, but things took a turn for the worse this year when he was diagnosed with a twisted colon - the same ailment which killed his twin brother Maurice in 2003.
The bowel then became perforated, leaving Robin with just a 10 per cent chance of survival.
Dwina added: "I said, 'If we just sit here and not let Robin have the operation, he will be gone in an hour.'
"RJ said, 'Dad is going to pull through this. I know it'.
"So they began the operation, with the warning that he might die within 20 minutes.
"Those were the worst 20 minutes of my life.
"I sat there praying. Then the doctors came in and nodded. He had made it. They told us he would be on a ventilator for three days - but he was off it within hours."
Soon after Robin was diagnosed with pneumonia, and Dwina, Barry and Robert-John started a constant vigil at his bedside. While he is now awake, Dwina admits he is far from cured yet.
She said: "We have to take each day as it comes. Robin has been seriously ill. Every time I go to hospital to see him, I am so happy to be there, so happy to see him with his eyes open and talking."
- Bang! Showbiz