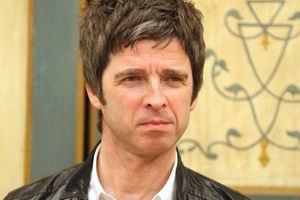 Noel Gallagher admits his mistook an earthquake for a hangover.
The High Flying Birds star was giving an interview in Mexico last week when the quake struck, but thought the shaking and swaying were just in his mind.
He said: "We were involved in a proper earthquake. I was doing an interview and they asked me if I would say 'come to Mexico on holiday' because they have all these problems with people getting their heads cut off by gangs and loads of crime.
"I was trying to wriggle out of it and the lamps they brought into the room started swaying.
"I had been out the night before and just brushed it off thinking it was a bit weird.
"You know ... we had been enjoying ourselves a bit.
"The cameraman just stopped and said really calmly, 'We better go, there is an earthquake'.
"It was like being on a ship. We had to do a runner. The buildings were swaying."
While he admits the quake - which measured 6.4 on the Richter scale - gave him a fright, the locals appeared to take it all in their stride.
He told The Sun newspaper: "We were all over the place walking out to the car park.
"I was stood there thinking, 'This is brilliant', as the whole place wobbled about. The locals were really laid back about it, sparking up fags and talking. But it was pretty hairy."
Continuing his travels, the former Oasis rocker headlined Californian festival Coachella last weekend, where he had a hard time getting his sleeping pills past security.
He said: "We got body-searched coming in. It was like an airport. It is me, I suppose, so they might know the history.
"They pulled out my sleeping tablets and asked me to explain them. There were about 30 little yellow and white tablets.
"I said, 'In all seriousness Chuck, or whatever your name is, do you not think these would at least be down my sock? They are sleeping tablets. What do you want me to do? Take one before I go on stage to prove what they are?'"
- BANG! Showbiz