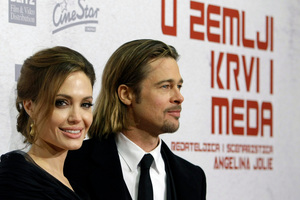 New Zealand fans of the couple known as Brangelina joined the chorus of well-wishers around the world as Brad Pitt presented long-time partner Angelina Jolie with a ring this week.
Sight of the diamond ring has heightened hopes Pitt and Jolie will finally get hitched, seven years after Pitt dumped his first wife Jennifer Aniston.
Pitt's last reported visit to New Zealand was in July 2010, when he was seen at a Wellington restaurant near Peter Jackson's WingNut Films offices.
Harshad Patel, manager at Tulsi Contemporary Indian Cuisine in Miramar, said his colleagues still remember the Pitt sighting. "I know he came here, though I was not here at the time," Patel said.
Pitt ordered butter chicken, garlic naan and chicken korma in July 2010, local newspapers claimed, before heading to destinations unknown. He never returned to New Zealand.
Also at Tulsi's that day was a chef, known only as Makesh, who now works in Johnsonville.
"I was working with another guy," Makesh said. "The next table over saw that it was Brad Pitt - but by the time everybody [found out] he had left the restaurant."
Pitt's fleeting visit had Tulsi fielding calls from newspapers and from TV news and current affairs shows. Makesh said other celebrity spottings are still common in Miramar - but none generated the interest the Pitt sighting had.
"Sometimes shootings go on. Nowadays they are shooting The Hobbit...so people do come from Weta Workshops."
The Mountain Scene newspaper also reported Angelina Jolie and Brad Pitt recently stayed at exclusive Blanket Bay, near Glenorchy in 2008.
Pitt met Jolie on the set of Mr & Mrs Smith in 2005 and promptly divorced Friends star Jennifer Aniston. Together they are raising six children. Pitt cut back on film commitments this year to spend more time with family, Agence France-Presse reported.
Thousands of Kiwis voted Pitt and Jolie sexiest man and woman respectively in a 2010 poll at film website flicks.co.nz.
But not all local Pitt fans welcomed the news entirely. Wellington student Caitlin Salter, who collects movie star memorabilia, had mixed feelings this weekend. "I was always a Jennifer Aniston fan. But [the wedding] makes sense. they've got lots of kids.They've been together for a while now."