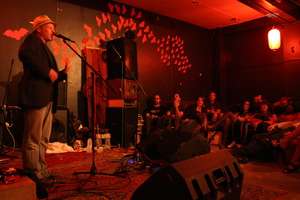 As the dim light of the Wine Cellar's back room dimmed even further, a motley audience sank into the deep couches to watch one of the more unique acts in town.
It started off innocuously enough: two men shambled onstage and commenced beatboxing as a duo. Skilful and clever beatboxing, but nothing too outrageous. The sounds produced were almost flawlessly electronic-sounding, but with that disconcertingly human edge: the involuntary click of a tongue, the patter of spit on the microphone. Nothing to really hint at the journey we were all about to embark on except the promise - or threat, depending on your point of view - of some kind of audience participation soon to come.
San Franciscan Sam Rogers - One Mouth Band - has been touring and couchsurfing for some time as exactly that: a whole band, all in one mouth. Rogers provides himself with both a mellow lead vocalist and a musical accompaniment that transverses musical genres with the flick of a loop switch.
With his laidback stage presence, Rogers tends to set an audience at ease with what he dubs his "100 per cent organic human music".
Acting as counterpart is Melbourne-born musician and funnyman Mal Webb, adding comedy and tension to Rogers' melodious boots'n'cats-ing. Webb tends to use more tricks, more body parts, and generally more effervescent craziness in his musical numbers, including his impressive "sideways yodelling".
It's rare to attend a gig where there is quite literally never a dull moment. This was achieved through a variety of simple, but very clever methods. Rogers and Webb's "tagging in" system meant the two took turns on stage, interspersed with collaborations and duets. They kept it fresh through the sheer number of musical styles on display, from Rogers' wonderful 'Foxy Lady' cover to Webb's eerily delightful original number 'Morning Song' (complete with an entire dawn chorus and an array of death-defying vocal gymnastics). It was a dynamic that worked, and you could tell the two were enjoying themselves.
The relaxed, conversational tone created by the musicians' obvious rapport made for a comfortable arena for a short lesson in beatboxing, which most of the audience took part in with aplomb. For those who were not so keen, it was a relief that wheedling and cajoling were pretty much absent.
We were promised surprises and special guests, and both were delivered. Caitlin Smith sang Sam Cooke's 'A Change Is Gonna Come' with beatboxing accompaniment from Rogers and Webb, then saucy cabaret-style singer Scarlett Lashes got the same treatment. While both singers were impressive entertainers in their own right, their numbers felt a little flat coming well into the set, especially following the ebullient shenanigans Rogers and Webb achieved when onstage alone, together.
Their set was a long one, and while the musicians never seemed to tire, the audience began to sag visibly towards the end. Webb mentioned after the show that an intermission might not have been a bad idea. It was the kind of hybrid theatrical-musical-improvisational production you might see in a Fringe festival, and the high-energy style of the performance, while laudable, was perhaps a little draining. However, as in a Fringe performance, you got plenty of value for money, and it was the most absorbing entertainment I'd had for five bucks in a long, long while.
Who: One Mouth Band with Mal Webb
Where: Wine Cellar, Auckland
When: Wednesday 4 April