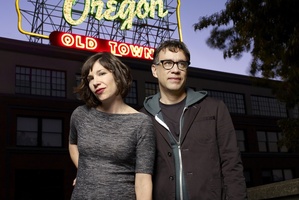 TV Pick of the Week: Portlandia
Portland has earned itself plenty of "Capital of Cool" headlines for its hyper-liberal, arty and environmentally conscious hipster lifestyle.

It's a city obsessed with everything organic and locally made. Bikes, trams and buses, not cars, rule the roads. Its denizens are heavily tattooed, excessively pierced, and obsessed with local bands. They shop in co-ops and hate corporations.
So famous has Portland become as a bastion of everything hip, young and green that it now has its own hit TV comedy, Portlandia. A partnership between musician Carrie Brownstein (formerly of band Sleater Kinney) and Saturday Night Live comic Fred Armisen, Portlandia lampoons the liberal life in the city with barbed affection.
Its tone is set in the first episode. Returning from a trip to Portland, Armisen asks Brownstein: "Do you remember the 90s? People were talking about getting piercings, getting tribal tattoos and people were singing about saving the planet and forming bands? There's a place where that idea still exists."
It then breaks into a song about Portland which praises sleeping until 11am and not getting a job and has the memorable chorus, "The tattoo ink never runs dry", sung by a bearded man wearing tiny speedos, a leather jacket and not much else. Portland, Armisen concludes, is "where young people go to retire".
Now in its second season stateside, Portlandia can be mercilessly accurate about the city's blossoming alternative culture.
One great sketch has a couple asking a waitress about the provenance of the chicken on the menu. Intense questioning reveals it was fed a luxury diet in an idyllic woodland smallholding and called Colin. Still unsatisfied, the couple leave to visit the farm. They return, only to start asking about the salmon. Portlandia's success relies much on a hipster boom worldwide.
"I would not have predicted that it would have the pop culture impact it has had," said Kristi Turnquist, TV critic at Portland's Oregonian newspaper. "It was the right show, at the right time, for the right people." But Portlandia is firmly rooted in the city's reality. Another skit, "Put a Bird On It", mocks craft shops that transform bags and clothes by simply sewing a bird motif on them.
Perhaps not by coincidence, a successful business called Queen Bee Creations has a line of items that does just that. Queen Bee sits in the middle of a Portland neighbourhood crammed with artisan breweries, chocolate shops and cute eateries.
Its owner, Rebecca Pearcy, laughed off the show's gentle dig. "It has exaggerated what life is really like in Portland," she said, but added: "People here really do want to know where the chicken came from that they are eating."
Even Portland's mayor, Sam Adams, has got in on the act of blending fact and fantasy.
He appears in Portlandia as the assistant to the fictional mayor, played by Kyle MacLachlan, one of many guest stars which have included Steve Buscemi, Aimee Mann, Sarah McLachlan, Heather Graham, Gus Van Sant, and Tim Robbins. "People just let that roll off their backs and go: 'Oh well, that's Portland'," said Turnquist.
It is also subversively hilarious. In Portlandia the fictional mayor is grilled by a hostile press when he is "outed" as secretly playing bass guitar in a reggae band. Adams is openly gay - and, yes, it's a non-issue.
When: Friday, 10pm
Where: TV3
What: Slipping it to the hipsters
Doco pick: Terror At Sea - The Sinking of the Concordia
Though there is no tell-all interview with Captain Francesco Schettino, the man blamed for the bizarre sinking of the NZ$780 million cruise ship Costa Concordia off the Tuscany Coast in January, this documentary does piece together what led to the disaster which claimed 30 lives.
The ship was hailed a "palace of the ocean" and a modern nautical wonder at 300m long with a capacity of 3780 passengers. But somehow, cruising along in ideal conditions, it struck a rock, tearing a hole in its side, then it ran aground and started sinking. The signal to abandon ship was not made until an hour after the impact. Terror At Sea recreates a minute-by-minute account of the timeline to tragedy and has interviews with survivors and rescuers.
When: Sunday, 8.45pm
Where: Prime
What: Chaos on the calm seas
Comedy pick: Parks and Recreation
It's straight into season three of this sitcom-meets-mockumentary following last week's second series finale where the romantic entanglements of the Parks and Recreation crew really started to get, well, tangled.
Andy, who was meant to be going out with April, ended up kissing his ex, Ann. And then there was Tom who discovered Ron was dating his ex, Wendy.
In this week's episode it's Andy who's out of luck when April finds a new boyfriend.
On the business side it's also bad news with state auditors Chris (played by Rob Lowe) and Ben (Adam Scott) telling the parks staff that the budget crisis still looms large.
So Leslie (Amy Poehler) makes a last-ditch effort to raise funds and keep the parks department open.
When: Tuesday, 9pm
Where: Four
What: Department of romance
Guest pick: Two and a Half Men
Actor Gary Busey has a long way to go to beat the bad boy behaviour of former Two and a Half Men star Charlie Sheen.
However, the veteran actor did a pretty good job of freaking everyone out with his bizarre antics during his stint on The Celebrity Apprentice, which included a screaming match with Meatloaf.
This week he makes a guest appearance on Two and a Half Men when he plays a patient in a mental hospital. So with Alan (Jon Cryer) still struggling to deal with the death of his brother, Charlie (Charlie Sheen), he is set another challenge in life and is forced to contend with the slightly odd and unhinged Busey character.
For Alan, who feels as though his sanity is slipping away, his encounter with Busey could push him over the edge or else cure him.
When: Wednesday, 7:30pm
Where: TV2
What: Feel the power of Busey
Consumer pick: Target
Long-term Target host Brooke Howard Smith is joined by Carly Flynn when the new series starts this week. In the first episode the team meet a young woman with stars in her eyes, only to discover she was a victim of a cruel scam. In the hidden camera segment it's cleaners who are in the gun, with one company charging double the price. And you can find out what's really in your frozen stir-fry vegetables.
Flynn, a former Nightline anchor and Sunrise host, says she is excited to be joining the show to fight for Kiwi consumers' rights.
"I've always been a fan of the way that Target champions the underdog, and I look forward to showcasing some of the best and worst examples of Kiwi products and businesses."
When: Tuesday, 7:30pm
Where: TV3
What: Fighting for your rights
-TimeOut