It's down to more than luck that one of our most enduring bands is on the road again. The Exponents talk to Russell Baillie about their current reunion tour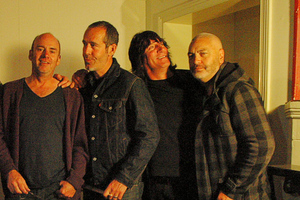 The classic original line-up of The Exponents - from back in the Victoria era when they were the Dance Exponents - is out on the road for a 30th reunion tour, which kicked off with sold-out shows in the band's joint hometowns of Christchurch and Timaru last weekend.
The final incarnation of the band might have called it quits in 1999, but irrepressible frontman Jordan Luck has never really been away.
And his songs haven't either - whether it's been Why Does Love Do This To Me booming from the terraces at the Rugby World Cup or Christchurch (In Cashel Street I Wait) becoming the anthem for the city's earthquake benefit show.
But now the foursome of Luck, guitarist Brian Jones, drummer Michael "Harry" Harallambi and bassist David Gent are celebrating their songbook, their long mateship and - for some - their 50th birthday years with one possibly last blast around the country.
So they're older - but are they wiser? Well here's the band whose songs asked so many things - Why Does Love Do This To Me?, Who Loves Who The Most?, Whatever Happened to Tracey? - answering some questions about being part of a band which has become a social institution ...
Be honest: Playing a 30-year anniversary of the band you formed as teenagers makes you feel ...
Jordan Luck: Well, I just turned 50 and this 30th thingy makes me feel like a wee bit of a pup.
Brian Jones: Ridiculous, fortunate and honoured, all at once.
Michael Harrilambi: Well, old of course. Jordan, isn't this the same Russell Baillie who has been writing about bands for 30 years too?
David Gent: Lucky, old, young, and gives me a chance to show my kids I'm not as uncool as they think.
Other than the three decades, the tour is a celebration of what?
JL: Musical happiness and researching what happened on our previous tours in preparation for our tour in 2021.
BJ: Good tunes and good times, all the time.
MH: Three decades of the surrogate family being formed. It sometimes verges on the Bains but mostly its just ya normal family - full of lunatics and all screwed up.
DG: Beer and pies, starting with the May's in Timaru, Willets in Oamaru then the McGregor's mutton in Palmerston.
Are there any old songs that make you go "what were we thinking"?
JL: None. I was very cogent of our collective musical conscience. There are two videos where I think that though.
BJ: Brand New Doll on our worst album, Amplifier. It's a great song but the production is of the time. My older brother Melvin co-wrote it with Jordan, the only song of his to be recorded and we completely buried it. Sorry Mel.
MH: The song F*** comes to mind. Long story short - an old member of the band (Chris Sheehan) wrote this sick guitar riff and beat and thought Jordan would add his usual lovey-dovey, back of a tractor, kissy words and make it a big hit. Haha no, he called it F***. Nice one.
DG: Airway Spies - what the hell is that about? "Officer, officer, please come quick, the doctor's needle's in his wrist ...".
But the best-ever Exponents song was? And why?
JL: Mmm, I don't really have a favourite. Lyrically I enjoy singing Nameless Girl.
BJ: Caroline Skies, because it captures the end of innocence and it's a fitting tribute to our hometown of Timaru and to our dear, late mate and Dance Exponent, Steve "Fingers" Cowan.
MH: Hmmm that's tough. Chicken George [Jordan] has written so many beauties, but When She Was In Love is right up there. I own half that song. Won it in a bet.
DG: Why Does Love ... Why? Listening to it at every All Blacks game including the crowd singing it at the World Cup final.
If it wasn't for the band disrupting your path from adolescence to adulthood, where or what would you be now?
JL: I was an adult before I became an adolescent and in a few years I may contemplate proof-reading. What's the pay like?
BJ: I hope I'd be who and where I am. Life's good, I'm still involved in music, managing MusiqHub taking lessons into over 200 schools nationwide. I get to rock out with The Exponents, I made an album with my twisted little friend, Ross Hollands, from The Bird Nest Roys (The Rasper by The Diamond Rings) and I just recently recorded a version of The Jackson 5's I Want You Back with my son Oliver on bass and my daughter Beth on vocals for Dave Gent's 50th. Doesn't get any better.
MH: Skateboarding was my life when the band started. I used to set my drums up at the Avoca Valley ramp in Christchurch and jam to Devo on both. Now I'm all grown up I have my own backyard ramp and drums in the lounge, and jam at both. Devo still rules, by the way.
DG: South Otago sheep farmer.
Complete this sentence. "It wasn't like this in our day. Young New Zealand bands these days, they have it so much ..."
JL: ... more or less. It is excellent to see musical instruments in schools.
BJ: Harder. Poor things, it must be tough graduating from stage school with "Fame, I'm gonna live forever" ringing in your ears, only to find you have to slog around grotty pubs for years. Or you could take option two and win New Zealand's Got Idols?
MH: They have it so much tougher these days with mobile phones and Crackbook. We used to go on the road for five weeks and never speak to anyone. Brilliant.
DG: Harder. We expected nothing and got more than we could have hoped for. I think they are too industry-savvy and miss making the cock-ups that turn into great times and stories.
What place have you looked forward to playing the most on the tour and why?
JL: Christchurch. We did our first gig there together and I believe we're going to see some of the last dismantling of the Cathedral. I've been there heaps since the quakes and for all of us it will be very poignant.
BJ: Timaru, hanging out with old mates, reminiscing, eating May's pies and trying to remember where things used to be.
MH: Christchurch. Old friends, the memories and, of course, feeling a bit of the hardship they are going through.
DG: Christchurch. I live there and the place needs as many bands playing there as possible.
Are the Exponents like the Mafia: you can get out but you can never really leave?
JL: Yes is my answer, can't wait to read if the other fellas concur. Get ready for our hit stage musical, The Kiwi Boys, on Broadway (Newmarket) in 2015.
BJ: Yes, I tried leaving and spent years working in Britain until one day I woke up with a horse's head on my pillow - or was it an ass?
MH: I'd say it's more like an army. Dad's Army.
DG: Mate, feeling lucky we still get to do this, especially with the original band.
And finally has age and wisdom made you find an answer to that question: why does love do this to me?
JL: Yes. Don't answer a question with a question unless you wish to divert or conceal some heinous guilt or are a bad proof-reader.
BJ: It's got to be the ultimate question without an answer. It's an enigma. A bit like the guy who wrote it.
MH: My job description means counting to four, mate. You think I could figure that out?
DG: I don't know, I don't know.
Lowdown
Who: The Exponents
When and where: Altitude Bar, Hamilton, tonight; Butlers Reef, New Plymouth, tomorrow; Bar Bodega Wellington, Saturday; Whakatane Hotel, Thursday, April 12; Brewers Bar, Mt Maunganui, Friday, April 13; Sideline, Napier Saturday, April 14 ; Sale St Auckland, Thursday, April 19; Ballroom Whangarei, Friday, April 20; Brownzy, Browns Bay, Saturday, April 21
- TimeOut