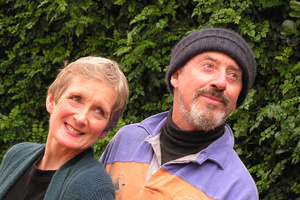 What: Meeting Karpovsky
Where and when: Howick Little Theatre, March 29-April 1
Dance and theatre fans have a rare opportunity to see acclaimed New Zealand ballet maestro Sir Jon Trimmer in a dramatic play when the two-person show Meeting Karpovsky arrives at Auckland's Howick Little Theatre.
First performed at Christchurch's Court Theatre in 2002, reviews praised the way in which its creators - Wellington actor Helen Moulder, Trimmer and Australian director Sue Rider - combined theatre and ballet with the music of Tchaikovsky, Weber, Stravinsky, Adam and Bach.
While Meeting Karpovsky, which was performed in Wellington in 2003, won a number of theatre awards, it's taken nearly eight years for Trimmer and Moulder to find the time to tour the production as they originally intended. Both have been busy with other projects, but say they always longed to perform their "unique and timeless" play again.
Moulder plays Sylvia, a woman in the midst of a crisis looking for hope, possibly redemption. A ballet lover, she lives alone in a house filled with photographs of her favourite dancer and boxes of her daughter's unwanted possessions. Then, one evening, something magical occurs: the great dancer Alexander Karpovsky (Trimmer) - who she has seen dance 127 times - arrives in her living room and begins to teach Sylvia to dance. "As Karpovsky teaches Sylvia to dance, he is helping her learn to live again," says Moulder. "There's a mystery about what exactly is hurting Sylvia but the theme of the play is about coming to terms with hurt and heartbreak and learning to find hope in our lives and move on."
She first worked with Trimmer on the kidult television series The Fire Raiser and, urged on by friends and colleagues, wrote him a letter asking if he would be interested in being in a play she was crafting. He says he was thrilled to receive her letter and was immediately interested in the project.
"It sounded different enough to make it good to do," he says. "I've done ballet, acting roles on stage and television and I've even sung in nightclub reviews. If I get a chance to do anything that is a bit different, I grab it."
He likens his role in Meeting Karpovsky to more of a ballet one because it is mostly dancing - he speaks only one word at the end.
He and Moulder might be older since the play first debuted but they remain as energetic and enthusiastic about the project.
"The wonderful thing about having your own play is that you can perform it and stop for a while, return to it and refine and rework it," says Moulder. "I have eight years more experience now so I play Sylvia differently. She's more centred rather than nervous."
Trimmer says he is thrilled to reprise his role and the intention was to keep touring Meeting Karpovksy but with both leads in such demand, it has been difficult to find the time until now. He will be seen later this year in the Royal New Zealand Ballet's productions of Cinderella and Giselle. "These days, I play old men, old women and witches."
So is he planning to hang up his ballet shoes any time soon? "Not if I can help it," he says with a chuckle.
Meeting Karpovsky is part of the Arts Festival Out East event at venues in Howick, Pakuranga, Botany and Flat Bush, which runs until April 5; see artsfestivalouteast.org.nz