A concert in a cave, a town done up in tartan, locals pushing a locomotive - Danielle Wright takes a closer look at the folk festivals small-town life inspires.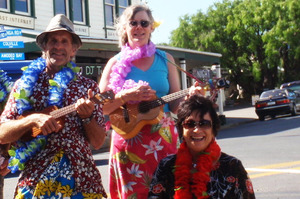 If you're tired of tasting small-town life only at the farmers' markets popping up on the outskirts of bigger cities, why not head out in search of the weird and the wonderful at one of the many festivals and events throughout New Zealand dedicated to showcasing our country's passionate side - as well as helping to fundraise for these smaller communities.
Sony Xplod Beach Hop
Whangamata Beach, March 28 to April 1. Free event.
This retro beach hop started in 2001 with 4000 people, 100 cars and 100 bikes. Now, in its 12th year, Beach Hop is "New Zealand's biggest nostalgia event and the biggest celebration of our culture," according to organiser Noddy Watts. More than 100,000 people are expected in this beach town during the five-day festival, a celebration of the 50s and 60s, to many a golden era in our history.
Wind the clock back and channel your inner Grease with over 1000 classic cars and hot rods cruising the streets, classic rock 'n' roll bands, girls in poodle skirts and bobby sox and men with quiffs. There's a retro beauty show, as well as vintage markets. If you're not satisfied just watching, make a costume entirely from car parts for the Junkyard Fashion Show or try your luck at Hop Idol, where all songs must be from the 50s or 60s. Accommodation is booked out a year in advance, so get yourself sorted for 2013 now.
The Great New Zealand Muster
Rora St, Te Kuiti, March 31, 10am-4pm. Running of the Sheep is at 2pm. No admission charge. Website: waitomo.govt.nz
If you can't make it to Pamplona for the bulls, the next best thing, and in true Kiwi-style, is the Running of the Sheep with around 2000 sheep unleashed down the main street of Te Kuiti as part of the 20th birthday celebrations at the Great New Zealand Muster.
There's also a competition ($2 entry fee) to count the number of sheep running past and a chance to win $2000 worth of prizes. It's the one time counting sheep won't put you to sleep. If you lose track, you could start looking out for Colin "Pinetree" Meads instead - the local rugby legend attends every year.
Erupt Lake Taupo Festival
May 10-20. See erupt.co.nz for programme or ticketek.co.nz for bookings.
Aside from admiring the beauty of the lake, a visit Taupo during the Erupt Festival gives you access to more than 60 events including comedy, theatre, dance, visual arts, music, workshops and special events such as chef Simon Gault presenting a degustation experience with Vidal winemaker Hugh Crichton. From robots and rockets to intimate theatre, burlesque dancing, 3D video mapping and free late night concerts, you'll see talent from New Zealand, Australia and England.
The Coromandel Ukulele Festival
Coromandel Area School, May 19. Gold coin donation. See thecoromandel.com for more details. The Homegrown Festival is also on in the Coromandel during May.
Each year, a group of ukulele enthusiasts meet up at a local school and hold workshops for intermediate to advanced musicians, as well as open mic sessions and group sing-alongs from midday, with a break for a stroll into town for food before the headline band. This year the drawcard is the Old Spice Boys from Byron Bay in Australia - a three-piece featuring a father and son.
There's no alcohol at the event, which gives it "a different vibe, family friendly and with a focus on education," according to organiser Tony Keyworth, though headmits many do head to the pub afterwards for a jam session over a couple of beers.
Puff 'N' Pull Carnival
Gillies St, Kawakawa, May 20. Free. Website: bayofislandsvintagerailway.org.nz
Gabriel, the beautiful green vintage train based at Kawakawa since 1986, runs straight through the centre of town overshadowing the other tourist attraction here, the Hundertwasser toilets. Once a year, local schools and community groups compete for a trophy in the Puff 'N' Pull Carnival - the children, some as young as 5, pull Gabriel down the street while groups such as from the police and local rugby teams pull it back the other way.
At 9am, the Trek to Track is a sponsored walk for school children to walk along the tracks, followed by the Puff 'N' Pull competition around 11am, closing the main street to traffic. Gabriel weighs 30 tonnes, so it's no mean feat. Afterwards, head to Johnson Park for rides, food, and entertainment.
Tartan Week
Waipu, June 30-July 15. Check waipu-tartan.co.nz for programme details and ticket prices.
The 1746 Act of Proscription banned the Highlanders from wearing tartan or playing the pipes. Thirty-five years later it was repealed. On that anniversary, Tartan Day is celebrated around the world to acknowledge the resilience of the Scots, who have a deep history in Waipu.
Tartan Week in Waipu features a men in kilts rugby challenge, a mid-winter swim, a clan dinner, street theatre, a pets in tartan parade, a parade led by the Waipu Highland Pipe Band, whisky tasting at the old jail, Kirking o' the Tartan and finishing with an Art 'N' Tartan Wearable Art Awards sure to feature a few "Skinny Malinky Longlegs", as the Scots might say.
Russell Birdman Festival
Russell Wharf, July 6-8.
The Birdman Festival started life as an idea over a few beers as entertainment for the locals to help make winter more fun. Watch the people of Russell attempt to fly off the Russell Wharf, as well as enjoying family activities including a spaghetti-eating competition, a "man marlin" competition and a beach dig for under 10s.
"Even in the winterless north we get mid-winter blues. This is all about brightening up winter, focused on family fun and creativity, and just maybe ... trying to fly!" says organiser Toni Ball.
Carols in the Cave
Waitomo Caves, December 8-10 (TBC). Tickets available from the Waitomo Discovery Centre, ph (07) 878 7640 - entry by gold coin donation. 200 people limit per night.
And it's not too soon to pencil in one of Christmas' prettiest carol services. For the past 20 years a group of singers have met in the Waitomo Caves Village for a Christmas concert. The iconic Cathedral of the Waitomo Glowworm Cave is the venue. Here, over three nights, they share a festive selection of music they've been practising for months. The result is a polished performance in a cave lit by twinkling glowworms - expect enough Christmas spirit to get you through the holiday season.
FURTHER AFIELD
Palmerston North from April 6-8, with everything from miniature cupcakes to miniature trains and nostalgic fashion.
Winter Solstice
Stonehenge Aotearoa, Carterton. Or ph (06) 377 1600. Mix with wiccans and druids (wise women and wise men) at the next winter solstice celebration. The setting is Stonehenge Aotearoa, which is not a replica of the English Stonehenge, but is on the same scale and incorporates Egyptian, Babylonian and Indus Valley astronomy and Polynesian navigation, as well as Celtic and Maori starlore. Visit on an auspicious evening and you will hear director of Stonehenge Aotearoa Richard Hall's presentation about the equinox, witness an ancient Celtic ceremony and later hear about Mars, the planet with more science fiction stories written about it than any other. Kay Leather at Stonehenge Aotearoa says, "Watch the ceremony as the sun sets over the stones, it's very peaceful and nice."
Whitestone Cheese Rolling Festival
Waikaka, near Gore - on a break for 2012 but back on a roll in 2013.
Dunedin, from Jul 7-12 with the famous Cadbury Jaffa Race (or Roll) down Baldwin St, the steepest street in the world, as well as the Cadbury Crunchie Train, factory tours, chocolate degustation and even chocolate facials.