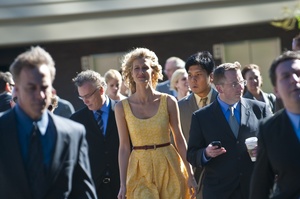 TV Pick of the week: Enlightened
Amy Jellicoe, played by Laura Dern, has a bit of a problem. She's an ambitious executive at global conglomerate Abaddon, but she slept with her boss Damon, who decided in order to keep things neat and tidy, he'd transfer her out of the department.
Perhaps understandably, she has a bit of a manic breakdown at work. A very public and humiliating breakdown.
So off she goes to a treatment centre in Hawaii, to put herself back together. And seemingly, it works.
"I'm speaking with my true voice now, without bitterness or fear. And I'm here to tell you, you can walk out of hell and into the light. You can wake up to your higher self. And when you do, the world is suddenly full of possibility, of wonder, and deep connection. You can be patient, you can be kind, and you can be wise and almost whole. You don't have to run away from life your whole life, you can really live. You can change, and you can be an agent of change."
Yep, it sounds pretty kooky and new age, and annoyingly positive and tranquil, but Amy is determined to turn her life in a new direction, and pass her new attitude on to others as well, in a one woman crusade. But it's not so easy once she gets back home. Her disapproving mother Helen (played by Dern's real mother Diane Ladd) isn't interested in hearing about Amy's new outlook, or how she's meditating on how to better communicate with her mother. Abaddon aren't really interested in having her back in the workplace (especially now that Amy wants to change them from a "parasitic corporation drugging Americas kids" to "a company that gives back to the community"), and Damon doesn't want to talk to her, or clear the air.
Plus her drug addicted ex-husband (played by Luke Wilson) is as messed up as ever, and despite her noble intentions, Amy starts to feel the havoc spinning around her once more. Can she keep it together?
And while Amy might initially come across as an exaggerated character who's difficult to empathise with, Dern's performance slowly makes her real. Under that surface of positivity and the cheery smile, she's vulnerable, frustrated, and sad, but also hopeful and determined, and holding on to every shred of self-belief she has. Dern makes her relatable, a fractured heroine of a modern world - which is probably why she won a Golden Globe for her role in the HBO series.
When: Sunday, 10.30pm
Where: TV One
What: Questioning the power of positive thinking
Farming pick: Country Calendar
It's almost as if the TV year hasn't really kicked off until Country Calendar starts.
Okay, for some of us at least, because now in its 47th series there's no denying its status as a Kiwi institution. And there is an emotional episode to start this year's season, which follows the Burgess family who are preparing to sell up and leave their family farm in the remote Catlins region.
But first they have to get their stock to auction during one of the worst blizzards and snow dumps the region has experienced.
Later in the series, the Country Calendar team meet a family who manage to make a living off the brief, but lucrative, whitebaiting season, and in the Bay of Plenty they reveal the struggles of a couple trying to make a go of organic dairy farming.
When: Saturday, 7pm
Where: TV One
What: An emotional start to 47th series
Crime pick: The Finder
Walter Sherman (Geoff Stults) is an oddball, and a bit of a comedian, but has a special ability to find things no one else can get their hands on. And how did he come by this special power? Well, the Iraq war veteran was the ultimate tracker but when he suffered brain damage after being hit by an improvised explosive device (IED) his urge for "finding" became an obsession. In the first episode of this show from Bones creator Hart Hanson, he finds a precious guitar belonging to John Fogerty of the Creedence Clearwater Revival (Fogerty wrote the show's theme song).
Then, with his hulking sidekick Leo Knox (Michael Clarke Duncan), he takes on the case of a young air force academy recruit who wants to find his pilot father.
When: Thursday, 8.30pm
Where: TV3
What: Extreme and quirky hide and seek
Nature pick: Attenborough and The Giant Egg
In 1960, David Attenborough visited the African island of Madagascar to film one of his first ever wildlife series, Zoo Quest. Given the state-of-the-art technology used on his latest show, Frozen Planet, let's just say the famous nature man has come a long way - Zoo Quest was quaint and modest to say the least.
However, it still turned up some good yarns. While in Madagascar, he acquired a giant egg of an extinct bird known as the "elephant bird" (the largest bird that ever lived).
Fifty years on, he returns to the island to find out more about this creature - and to see how the island has changed.
Through his new research he also hopes to help protect the wildlife of Madagascar, about 90 per cent of which is not found anywhere else on Earth.
When: Sunday, 8.45pm
Where:Prime
What: The return to Madagascar
Drama pick: The Sinking of The Laconia
Continuing the regular war-time stories on Prime is this two-part drama about the RMS Laconia, a converted ocean liner that was torpedoed and sunk by a German U-boat on September 12, 1942. It was on its way from Egypt to Britain and on board were a mixture of English civilians, Allied soldiers and Italian prisoners of war.
However, instead of leaving the passengers to a watery grave, U-Boat commander Werner Hartenstein went against the orders of his Nazi superiors and instructed his men to save as many of the survivors as they could.
Makes you wonder why he opened fire on them in the first place. A question most likely answered in this miniseries which highlights the friendships that developed between this disparate group of people.
When: Wednesday, 8.30pm
Where: Prime
What: U-Boat commanders admirable U-turn
-TimeOut