Move over T-Rex, it's the Flaming Lips. The new show from the life-size dinosaur wizards makes the last one look prehistoric, reports Lydia Jenkin.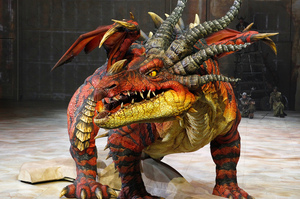 Meet Toothless. He looks like a cross between a panther, an axolotl and a bat with his gleaming skin and muscular frame. He's a silvery black dragon - a "Night Fury" dragon.
He might be an intimidating 8m-plus long with a 10m wingspan. But he's ever so elegant in the air. Until that is, young Viking Hiccup nets him. Toothless is convinced he's about to be finished off by the warrior while Hiccup fears the dragon might fry or eat him.
But instead Hiccup offers him a fish to eat. The resulting look of surprise on Toothless' face is a magic moment, his bright green eyes blinking in appreciation.
Toothless changes from savage beast to loveable pet in a moment, and it's all in his expression.
Five years ago, this scene might have only been possible on film, as in Dreamworks' animated 3D movie How to Train Your Dragon. But now you can see it for real, in the flesh, courtesy of technological developments which have led to the creation of amazingly lifelike animatronic robot dragons.
Last year New Zealand got to see the arena spectacular Walking With Dinosaurs. This time, Global Creatures, the company that created the dinosaurs, has partnered with Dreamworks to bring their hit film How to Train Your Dragon to life.
Dreamworks head Jeffrey Katzenberg sees the technology as a new frontier in entertainment.
"With each of our movie properties, they have opportunities to live beyond the movie theatre. And I think each in their own way has lent itself to new experiences ...
"We've had Shrek and Kung Fu Panda go to Broadway, and the penguins from Madagascar go to TV. When we saw Walking With Dinosaurs a couple of years ago, it seemed like that was just a natural fit and would be a phenomenal extension with what we were doing with Dragons on film."
It's a huge investment, and something of a gamble for the company, as this very colourful live show is taking on several firsts.
It's the first-time animatronic flying robot puppets have been created on this scale. It's also the first time such a big a projection screen - 21 times the size of a standard cinema screen and stretching between wall and floor - has been used in an indoor arena show.
In a world where 3D movies have become the norm, it's blending all sorts of entertainment forms, including acrobatics, puppetry, film and music, in order to dazzle an audience.
The scale of the project is enormous, with more than 600 people involved in the show's creation.
There are nearly 30 dinosaurs on set of varying sizes (including seven that can fly), five animatronic robots, and an array of puppet suits. The flying dragons weigh about as much as an elephant. They're joined by a cast of 24 actors, some of whom ride on Toothless as he flies. Each dragon is operated by three or four people.
The show's director, Englishman Nigel Jamieson, says the show tops the Olympic and Commonwealth Games opening ceremonies he's worked on before.
"To manage to meld this level of spectacle and technology in with a story, I think it's one of the most challenging things I've done.
"Often [with live shows] you're depending on a whole team of people - a crane driver who's going to lift the puppet at the right time, the projectionist who's going to have the images in sync, the lighting person who's going to point the lights in the right place, the aerialist on the line, the rigger who's got all the cables in the right place ... that's what I love about theatre. Every moment there might be 100 people propelling that moment forward, even if you only see one person."
Some of the show's technology was developed for Walking With Dinosaurs up to five years ago, but HTTYD comes with new levels of detail, and subtlety to help tell the story - originally from a children's book series by Cressida Cowell - about, how, in a Viking village of dragonslayers, young Hiccup rebels and befriends the fire-breathers instead.
"Dinosaurs was really a history lesson, and this is a piece of emotional storytelling," says Katzenberg, "and the importance of Hiccup and Toothless to be able to connect and bond is something that the technology now allows us to do."
But all that technology still needs the human touch. The crew who operate the animatronic dragons are known as Voodoo operators. Brian Parker, one of the four operators on Toothless, explains the team have to work exactly in sync with each other to create a convincing character.
"Amanda Maddock is on the joystick which operates all the facial expressions and movements like the jaw, the brow, the ears, the sounds, the snarling, and she uses a keyboard to create the sounds from a sound palette.
"Then there's Nick Snyder - the driver who steers him, Dan Flood who's responsible for the tail and the wings, and then I'm on the Voodoo rig over here which is gross body movements," Parker explains.
[Note to kids, that's gross as in big bits of the body, not gross. Though one of the dragons does do something rude with a piece of furniture.]
Parker says they are actors as much as any of the rest of the cast, and their aim is to give Toothless a strong personality, while also keeping his movements fluid and elegant and keeping the audience's attention in the right place. They've had less than two months to practice with the finished robot and they're still learning what's its capable of.
"We're still tweaking his walk cycle, how it bounds and leaps, and co-ordinating all of the wing movement and the foot placement on the ground.
"We're still exploring its movement vocabulary. So you're experimenting and then you go, 'oh that's great, let's see if we can duplicate that and remember how we actually got into that position'."
The man responsible for these magically lifelike creations is Sonny Tilders, founder of the Creature Technology Company, an arm of Global Creatures.
With these dragons, the closer you get, the more real they seem - the skin, the eyes, the facial expressions, the power in their legs and tails - and that comes down to Tilders' approach.
"We said, 'if this was a real animal, how would it be built? What sort of muscles would it have? How thick would the neck need to be to hold up such a big head, and how do we ensure that we get a nice walking gait? We had to put mechanical elements in there that can act like bones.
"Normally you wouldn't bother about the details, the things you can see as you get closer and closer, but the moment Toothless roars over the audience, you do see it, and that's part of the experience."
The result is a show which bridges the gap between the spectacle of 3D films and a first-hand sensory experience where you can feel the heat on your face as the dragons breathe fire, or the cool touch of a breeze as one of them swishes past you.
"There's a world of flat screens out there, and 3D flat screens, and they're impressive, but in the end, you just can't beat seeing it in the same space, to be beside it or underneath it."
The dragon kids
Here's the human leads on their roles in the show.
Eighteen year-old Melbourne actor Rarmian Newton, who stars as Hiccup, describes acting around the machines as both mentally and physically demanding.
"The dragons are actually quite dangerous if you get in the way of them. We have to make sure everyone knows exactly what they're doing in the space to make sure there's no collisions".
Nineteen year-old Brisbane actress Sarah McCreaner, who stars as Astrid, said performing in the show was "pretty surreal".
"We've been working on it for a few months now, and still, every time you come out on stage, you're reacting to the dragons like it's the first time you've seen them, because they're just that real," she said.
LOWDOWN
What: How to Train Your Dragon arena spectacular, based on the Dreamworks movie and Cressida Cowell book of the same name.
Where and when: Vector Arena, from April 18 to 22.
- TimeOut