A subscriber service that offers an alternative to the likes of iTunes is about to launch locally, reports Chris Schulz.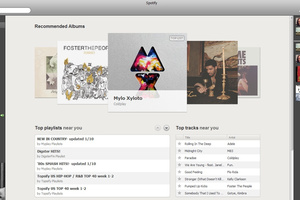 Hyped music provider Spotify is gearing up for a New Zealand launch any day now, with one industry expert predicting it will change the way music is consumed in New Zealand.
The fully legal online streaming service has a catalogue of more than 15 million songs, and has been hugely popular in Europe and the United States. It is tipped to kick off New Zealand and Australian operations by the end of the month.
TimeOut understands representatives from the Swedish business - founded by entrepreneurs Daniel Ek and Martin Lorentzon in 2008 - were in New Zealand recently to lock down deals with music labels and internet service providers.
Users can choose between free plans with the inclusion of advertising, to paid full subscriptions with no ads. From there, they have access to Spotify's massive music library and can search for artists and begin building their own playlists to share across computers, tablets and smart phones.
After signing up and installing Spotify on your computer - a simple process that took TimeOut mere minutes - users can install an app on iPhones and other portable devices, effectively turning them into personalised radio stations full of their favourite music.
Using an interface similar to iTunes, playlists can be linked to Twitter and Facebook, and users can share their favourite songs and playlists with each other. The programme can also recommend songs and artists based on your listening trends.
Because music is being streamed, users no longer need to store large collections of .mp3 files.
Though New Zealand costs haven't been confirmed, in England the full service is £10 ($19) a month, or £5 ($9.50) a month for limited features. Free users are forced to listen to ads between songs, and stream them at a lower bitrate.
The preview version tested by TimeOut had the option of one month of free premium services upon signing up. Spotify representatives couldn't be contacted by deadline to confirm exactly which services New Zealand users would be getting.
Spotify has had plenty of celebrity endorsements, with Britney Spears, Ashton Kutcher and even Nine Inch Nails frontman Trent Reznor tweeting their support when Spotify launched in the US last July.
Not everyone is a fan, with albums from major acts like AC/DC, Metallica and the Beatles unavailable on the service, while Radiohead, Coldplay and Adele all refused to release their most recent records on Spotify.
But at least one local musician is excited about the release.
Jeremy Redmore, the frontman for rock act Midnight Youth, says Spotify is a great promotional tool for local musicians to get their music heard.
Both of the band's albums are available on overseas versions of Spotify, and while they haven't made much money out of it, Redmore says their music is being heard by audiences it wouldn't otherwise be available to.
"For most artists, especially up and coming ones, it's a case of exposure - which is awesome," Redmore says. "You'll make a ridiculously low amount of money out of it [but] it's not about selling numbers - it's about getting people to listen and wanting to come to shows."
Local technology commentator Peter Griffin says he'll be "first in line" when Spotify launches here because New Zealand music fans have been held back from accessing legal online music services for too long.
"Spotify is the first one that is offering a massive collection of music that you can adapt to your needs and stream to devices," he said.
"Internet connectivity is good enough now, and the devices are good enough, to stream content over the internet to your device - rather than having to maintain a library of downloaded content.
"Eventually we will all be paying a subscription for music and owning less music physically on our devices and home computers."
Spotify won't appeal to anyone who likes to collect vinyl or CDs. Instead, Griffin says it appeals to younger music fans who aren't concerned about sound quality and want the latest music first.
In Sweden, where the service first launched and where online file-sharing site The Pirate Bay began, nine out of 10 people aged between 16-25 are signed up to Spotify, and 55 per cent of those use it daily.
"Young people aren't so hung up about the quality. They want access to the latest stuff now, they want a lot of content and they browse through content endlessly," Griffin says.
The biggest change is that users won't have to store large libraries of .mp3 files anymore and copy them between devices.
"Traditionally it's been a nightmare managing your music across multiple computers and mobile devices. Streaming gets around that completely whereby you just stream to your device and you don't physically own it - you own the right to access that on your device.
"As long as you've got good connectivity, I think that's a pretty effective model."
He believes Spotify, and other "premium" subscription streaming services like iTunes Match and Google Music, will help "stem the tide of piracy" in the music industry.
"That's the only successful model that's working, outside of iTunes," he says.
But as Redmore warns: "I think you have to be Lady Gaga to make a lot of money out of it."
-TimeOut