A quick word with the Trailer Park Boys. The Canadian comedy clan from the white trash mockumentary of the same name are coming to town with their live show on the Drunk, High and Unemployed tour. TimeOut talked to the trio - Ricky, Julian, and Bubbles - about, sorry, aboot, life away from Sunnyvale Trailer Park after seven TV seasons and two feature films.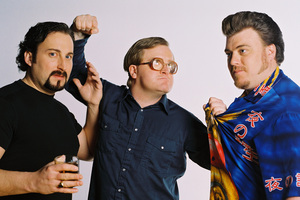 So what made you guys decide to leave Sunnyvale behind and tour the world?
Ricky: Well, there's a few different reasons. Bubbles is actually trying to get into a movie, so he's shooting a reel all over the world, kinda like a demo reel. And I'm starting up a school, and I wanna get people from all over the world to come to my school. It's gonna change the school system, cos the school system sucks, and my school will be awesome.
What is your school going to be about?
R: It'll just be about real life things instead of the stupid stuff regular school teaches you. Like how to use a blowtorch properly maybe, or a microwave, different things like that. Just cutting grass and stuff.
Bubbles: That sounds like a fantastic school Ricky, How to Work a Blowtorch School.
Have you found somewhere to stay in while you're in New Zealand?
J: I hope so.
R: There's not many trailer parks over there are there? There's caravan parks but they're like campgrounds. Maybe we'll start one if we can find some cheap enough land to make some coin there.
J: Living in a trailer park is great, it's just like camping all year round. People would love it.
And do you often have issues getting through security at the airport, given your prison records?
Julian: Every single time.
B: I'm a little bit worried about what the authorities are going to say about Ricky's extensive record.
R: I wanted to swim over, but apparently it's pretty far so I guess that's out of the question.
And what can we expect from the show?
B: I'd call it a cavalcade of craziness. It starts with me blasting myself out of a cannon from the back of the auditorium. And then I land in a big net on stage, and then some lions come out, and I tame them. And then I do some trapeze work, some highwire work on a motorcycle up on the trapeze wire, and that's just the start.
What do Ricky and Julian do while this is happening?
B: They're both like my assistants. They have the one-piece jumpsuits on, they've got flames on them, and they run around, and strap each other with hot mops, and grab each other downstairs, just silly little things.
R: Bubbles, what the hell are you talking about? I don't remember any of that.
B: Just go with it Ricky, I'm trying to sell tickets.
Bubbles, you had dreams to open up your own cat care facility Kittyland, have you had to put that dream on hold for a while?
B: I've got Kittyland Love Centre up and running right now actually, I've got about 121 clients that bring their kitties by at different intervals. I wash them and cut their nails, and do some belly work on them, and that's what I do for a living now. It's a fantastic job.
And what are you looking forward to most about this trip to New Zealand?
J: I'm looking forward to meeting some ladies from New Zealand myself, visiting a few strip clubs. In the United States they never take it all off, but I've heard they do down in New Zealand.
R: Yeah I'm looking forward to talking to a bunch of the farmers down there, and finding out if they grow the same way we do in Canada, talking about different techniques, doing some research.
B: I'm just looking forward to meeting some local people and having a drink with them and maybe smoking some stuff and then maybe start rapping on some ladies. I hope everyone's ready to do some serious partying, cos that's what we're coming for.
LOWDOWN
Who: Ricky, Julian and Bubbles from Trailer Park Boys
What: Live comedy based on the TV series of the same name
When and where: Friday March 23 at the Auckland Town Hall
-TimeOut