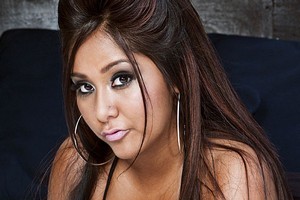 Snooki is set to make a reality show about her pregnancy.
The Jersey Shore star - real name Nicole Polizzi - is reportedly expecting her first child with boyfriend Jionni LaValle, and producers have requested the use of a baby store in Jersey City, sparking rumours a spin-off series featuring her will begin soon.
495 Production, the company behind MTV hit 'Jersey Shore' asked the Bambi shop for permission to shoot inside, and although the store owners were initially reluctant, they eventually relented, TMZ.com reports.
It is not yet known when shooting will begin.
Snooki recently revealed she could not wait to settle down and get married and put her hard partying days behind her.
She said: "I'm still waiting for that ring, I swear to God. I've been telling him this for months now!'
"I live my life crazy partying whatever, but I'm ready to settle down and have a little baby.
"[I'm giving him] two years. I'm 24 now. He has until 26 to ask me. If he doesn't ask me, I'm asking him!' "
- BANG! Showbiz