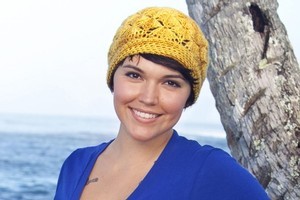 The first person to leave the latest season of Survivor says she met a "dreamy" doctor while holed up in an Auckland hospital.
Texas resident Kourtney Moon was eliminated from Survivor: One World after breaking her wrist during the reality show's first immunity challenge when she fell awkwardly into a net.
The 29-year-old motorcycle repairer was flown to New Zealand for surgery, and says a good-looking doctor took her mind off the pain.
"You guys took really good care of me," she told nzherald.co.nz.
"I can't remember his name, but he was very, very dreamy. They tortured me by putting my arm back together, and he came in and he had these big blue eyes and I completely forgot that my arm was broken."
Moon, who has a French boyfriend and a young son, also fell in love with rugby while she was here.
"We went to a nearby pub. It was full of people watching the game and it was one of the best experiences ever ... I remember discovering rugby that night and being completely obsessed with watching the rest of the games.
"I love New Zealand."
Moon says she struggled to fit in with her Survivor tribe of women, which she described as "crazy".
"I think an all-girls tribe definitely didn't work in my favour ... I didn't fit in with a couple of girls there. Most of them had that beautiful, girl-next-door look and I've kind of always been the oddball. I've always hung out with oddball kids.
"Women are crazy. I'm a woman, we're all crazy, no offence. There's a lot of pettiness."
She said her wrist injury was the first time she had broken a bone.
"Once I got to the bottom of the net and realised that I couldn't put any weight on it, that's when I knew it was broken. It didn't feel good.
"I would have loved to have spent some more time out there, but if they'd let me back in with an injury they would have knocked me out immediately."
Watch highlights from Moon's Survivor experience:
* Survivor: One World screens on Four on Sunday nights. nzherald.co.nz will interview every contestant as they are eliminated.