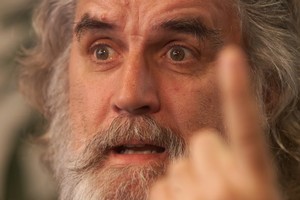 If anyone comes ready-made for Peter Jackson's film versions of The Hobbit, it's Billy Connolly.
The bearded Scottish comedian was today announced as the latest addition to the cast of the Kiwi director's two Hobbit features, based on JRR Tolkein's best-selling books.
Connolly, a stand-up comic and TV star with several film credits to his name, will play Dain Ironfoot, a great dwarf warrior and cousin of Thorin Oakenshield.
In a statement, Jackson said he couldn't wait to see Connolly in action.
"We could not think of a more fitting actor to play Dain Ironfoot, the staunchest and toughest of Dwarves, than Billy Connelly, the Big Yin himself," he said.
"With Billy stepping into this role, the cast of The Hobbit is now complete.
We can't wait to see him on the Battlefield!"
Connolly has previously starred in 2003's The Last Samurai, which was also shot in New Zealand, and 2004's Lemony Snicket's A Series of Unfortunate Events.
He joins a cast that includes Ian McKellen, Martin Freeman, Cate Blanchett, Ian Holm, Christopher Lee, Hugo Weaving, Elijah Wood, Orlando Bloom and Andy Serkis.
The Hobbit: An Unexpected Journey will premiere on December 13 this year in Wellington and the second film, The Hobbit: There and Back Again, is set to be released on December 12 the following year.
- Herald online