After 15 years in the music business, Erykah Badu remains a fiercely independent spirit and genuinely inspiring artist. From the multi-platinum success of her 1997 debut Baduizm to collaborations with J Dilla, Madlib and Flying Lotus – and her three famous "baby Daddies" – she confidently walks her own path. VOLUME spoke with Badu prior to her first visit to New Zealand.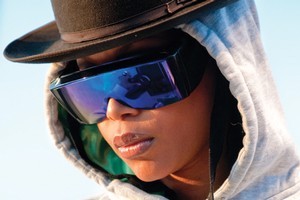 Erykah Badu is as famous for her deeply spiritual - some would say seriously weird - personal beliefs and her influence on former partners Common and Andre 3000 as she is for her award-winning, multi-platinum selling debut album Baduizm and the impressive run of releases that followed it, but it is her music that makes her a true original.
Her sensual blend of soul, hip hop and r'n'b allied to a sassy, classy attitude and exotic good looks has set her apart from the pack for more than a decade. It began with a debut album which exposed Badu to the kind of attention most folks would've struggled to deal with - but Erykah Badu is definitely not most folks.
"I think it would've been difficult if I hadn't been aware what business I was getting into, because you get into the music industry, you got to sell units," Badu says. "But then when something wonderful like gaining a cult following, multi-platinum sales and all that stuff happens, that's some extra shit!"
She pauses, gathering her thoughts: "But even with the career I've been afforded, the large platform I've been given, I've learned that no matter what your position is, you still have a responsibility to the people around you and closest to you. My focus is on my evolution."
Part of that evolution has involved collaborating with artists like Common, J Dilla and The Roots, all of whom Badu took both musical and personal pleasure from working with.
"Common came to my place in Brooklyn one time, and we connected very, very well, became best friends. With The Roots, I had Baduizm, but I didn't have the song I thought would round the album out. So I got on the train, went to Philly, met with Questlove and stayed at his house for a couple weeks, and came through with the rest of the album."
She continues: "I got to meet amazing people just doing that: Dilla, Madlib, Bilal, D'Angelo, Sa-Ra, Jill Scott. It just connects like that. I think people who vibrate at the same frequency, vibrate toward each other. They call it - in science - sympathetic vibrations."
This was the Erykah Badu I was hoping to hear more from and, as it turned out, she didn't need a lot of encouraging: "I don't know if it's because I just turned 40, but my mind is in another totally different place now. I don't really give a f**k about anything right now - in the best kinda way," she chuckles. "But since the Earth is taking its polar shifts as it does every 2500 years, it does something weird to the Earth's core, makes it heat up, and you get these different disasters and things.

"The Mayans said in 2012 there would be a shift, or an ending, or a beginning, or a return of something, and I think it co-relates with what's going on with the planet. Because we are earthlings, very much connected with the planet, made of the same carbon and hydrogen and oxygen as the planet's made of, it's quite natural for us to behave the same way - it's a recalibration."
While Badu's explanation for the turmoil of recent years goes some way to justifying her out-there reputation, it seems there is a growing reaction to perceived injustices globally, from established protest groups to ordinary folks.
"I don't know a lot of details about what's going on politically, I just feel that our children's minds are a lot different to ours, and that's a result of being born in this age and time," she explains. "I think our children are in a more unique, concentrated state. We're evolving as a race and as a planet, and I do hope there's some sort of rebirth - but not without the labour pains first."
Considered words from a woman entering her fifth decade, a mother-of-three who has seen more of the world and the people in it than most, and experienced first-hand how harsh the glare of the spotlight can be. Analog Girl in a Digital World maybe, but there can be no doubt Erykah Badu is fully prepared to stand up for what she believes in. We could learn a lot from her.
Essential Erykah
Apple Tree from Baduizm (1997)
Where it all began.
Call Tyrone from Live (1997)
Has a diss track ever been delivered with such sophistication?
The Roots ft. Erykah Badu - You Got Me from Things Fall Apart (1999)
After the record label baulked at Jill Scott's involvement, Erykah re-recorded Jill's part and a classic was born - and Jill and Erykah are still friends too.
Guru ft. Erykah Badu - Plenty from Guru's Jazzmatazz (2000)
Listen to this track and try not fall completely in love. We bet you can't.
Bump It from Worldwide Underground (2003)
Her languid, lyrical vocals in full effect on a track so laidback, it's almost sideways.
Erykah Badu ft. Common - Love of My Life (Ode To Hip Hop) from Brown Sugar OST (2003)
A pairing of the two most conscious artists in hip hop - also romantically involved at the time.
Turn Me Away (Get MuNNY) from New Amerykah Part Two: Return Of The Ankh (2010)
A loose-limbed monster groove sampling the Roy Ayers/Sylvia Striplin classic, You Can't Turn Me Away.
*Erykah Badu plays Splore 2012 at Tapapakanga Regional Park, Auckland, 17-19 February, with Hudson Mohawke, DJ Qbert and Reeps One, Soul II Soul, Africa Hitech, Gappy Ranks, Shortee Blitz, The Yoots, @Peace, Scratch 22, Disasteradio, Alphabethead, Earl Gateshead, The Nudge, AHoriBuzz, The SmokeEaters, Hermitude and more.