A week in the life of Avalanche City's leading citizen, Dave Baxter.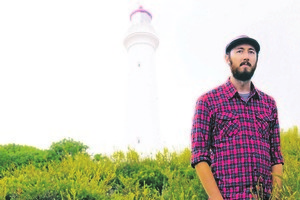 Friday night drinks? Meet me at:
Even better, meet me for curry at Tandoori Garden in New Lynn.
Where I'll be wearing my new:
Jersey?
And this weekend I'm planning on:
Being in Matakana and Tutukaka for the first shows of The Classic Hits Winery Tour!
But first I'll need to refuel at my favourite cafe:
Cosset, in Mt Albert. It's the best.
Saturday evening. If my dreams came true there would be a gig by:
Fanfarlo.
But if there's nothing else doing I'll probably just:
Have a sweet game of Phase 10 with friends or Monopoly Deal.
On my stereo/headphones right now is:
The new Florence and The Machine album.
The books I can't put down are:
Anything by Terry Pratchett.
The TV show I take the phone off the hook for:
River Cottage.
The movie I've been dying to see:
Anything I haven't seen by [Japanese animators] Studio Ghibli.
A non-cooking Monday night means takeaways from:
Thai Cuisine, Mt Albert.
Or a splash-out Wednesday night restaurant would be:
Elliot Street Stables.
*Avalanche City join Gin Wigmore and the Mutton Birds on the Classic Hits Winery Tour which starts at Matakana's Ascension Wine Estate tomorrow night and Saturday (the second night is sold out) and Tutukaka's Marine Reserve on Sunday before heading south to the rest of the country and returning to Auckland's Villa Maria Estate on Saturday March 3. Info at www.thewinerytour.co.nz
-TimeOut