Top Gear presenter, and creator of the TV series and book Man Lab, James May is on a mission to get the male population picking up their tools again, writes Stephen Jewell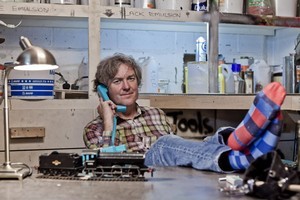 As a presenter on Top Gear and the creator of Man Lab, you would expect James May to be a fan of the numerous cutting edge technological devices that currently make our lives so much easier. But when I meet the affable, shaggy-haired 48-year-old at his publishers' London offices, he initially eyes my brand new digital recorder with some suspicion.
"I used to do a lot with one of those but I had a tape in mine," says May, who worked as a journalist on Engineer and Autocar magazines before turning his hand to television. "I can never trust the electronic ones. How do you know it's working? You can't see the tape going around."
Not that Man Lab - in which May promotes increasingly neglected traditional skills like how to wire a plug or replace a tap washer alongside more outlandish feats such as how to install a train set at your workplace or mount a prison break - believes that progress is a bad thing.
"We're not anti-technology," he says. "A lot of people have assumed that we're desperate to send the world back to the age of thatchers and carpenters, but we're not.
We just think that the simple pleasure of doing things with your hands and making and experimenting with stuff is something that we should re-embrace because it's become unfashionable and has been dismissed as being a bit weird and sad. But mucking around in a shed is what a hell of a lot of us want to do and that's how a lot of great inventions have come about. It's a worthwhile thing to do and it stimulates the brain in a slightly different way to watching television or doing things on computers."
Having spawned two popular BBC television series and a spin-off book, there is evidently an audience for May's back-to-basics approach. "It goes back quite a few years to a thought I had about how there weren't any programmes that allowed blokes to celebrate messing around and doing useful things," he says.
"Most blokes programmes were about blokes arsing around and being useless. There weren't any shows where we could be nerdy about blokes' activities like making and mending things, launching rockets and stuff like that. It took me a while to convince them but eventually they let me do it. The first series was a sort of pilot to try some ideas out but it was a bit too anarchic and hard to follow. We didn't quite get it right, so we went away, thought about it quite hard and then came back for the second series, which is a lot more cohesive."
With many of us seemingly unable to perform simple everyday tasks like change a fuse or even hammer a nail into a wall, you have to wonder if there is any hope for the contemporary male. "It seems ridiculous but it's almost self-perpetuating because we're constantly told that we're not practical anymore so we then believe it," says May.
"We don't try a lot of things that are basic skills like drilling holes or making basic woodwork joints, which are actually not that difficult."
As I know from personal experience, assembling flatpack furniture has often proved to be a tipping point. However, May insists that it is not that difficult, particularly if you take the time to analyse the instructions.
"We aren't that good at reading diagrams anymore, which is a skill that's being lost," he says. "There's also this rather fatuous notion that reading instructions is somehow for losers or not cool, but that's not true. Airline pilots and astronauts read instructions all the time and it's not as if they're uncool. But with some electronic things like computers and iPhones, you shouldn't have to read the instructions. They're logical by definition because they're really just very elaborate strings of ons and offs. We're used to trying something out and fiddling with it until we learn how to do it and that's quite good. But you can't really do that with an aeroplane. You've got to sit there and read the book and be right about how to do it, because otherwise you'll kill yourself."
Despite its masculine emphasis, May hopes the opposite sex will also appreciate his handiwork. "I'd like to think that women will read the book," he says. "Women watch the programme, which I'm very pleased about, and there's women in it as well, who work on the Man Lab. They help make it and they sometimes appear in it as well. It's not in any way chauvinistic and we're not excluding women. It's just that men need more help at the moment."
With females often portrayed as being more resourceful and adept at multi-tasking, May believes that men need to step up their game.
"I get the impression that women would like men to be a bit more handy, as they're bored with us being useless," he says with a laugh. "We keep getting told that they're better at everything so I thought 'fair enough and good on them' but we shouldn't give in. We should make an effort because otherwise we'll really have no function."
Born in Bristol, May has dismantled things and put them back together ever since he was a child. "It goes back to things like Airfix kits and making bicycles and go-carts with my mates," he recalls. "There's something really fascinating and almost magical about it. I've always been into it but I've become further and further removed from it as I ended up working in magazines, became a freelance writer and then got into telly. I keep talking and writing about these things but I haven't got the time to do them anymore. So I thought the answer to the problem was to make a TV programme about it and I can then do it as part of my job."
Man Lab has allowed May to re-acquaint himself with some past skills that he had otherwise forgotten. "I re-learned a few things, such as how to use a woodturning lathe, as well as some bicycle maintenance and navigation stuff that was getting a bit rusty," he says.
"I also hadn't done any welding since I was about 18 so it was good to do a bit of that. I hadn't done any bar work for a while so I pulled some pints of beer again. As an interesting experiment, I made a list a while back of all the things that I could once do and can't anymore or don't feel confident doing. I started off with a few musical instruments that I used to play and then thought of all these things like quadratic equations, inscribing medieval musical notation or making a mould in a fire that I could once do perfectly comfortably but can now only dimly remember how to do. It's tragic that you can unlearn so much."
After appearing in Channel 4 motoring programme Driven, May joined Top Gear in 1999 shortly before it was cancelled due to poor viewing figures. Revived in 2002, it has since become a worldwide phenomenon, attracting more than 350 million viewers in 170 countries and spawning a stage show, Top Gear Live, which has performed before sellout audiences across the globe, including New Zealand. "It seemed to go down pretty well," he says. "They seemed to like us for some reason."
For all the technical talk of fast cars, it is May and co-hosts Jeremy Clarkson and Richard Hammond's irreverent humour and outrageous stunts that provide Top Gear's main drawcard.
"Most people have recognised the show for what it is," says May. "There are some critics, who vastly over-estimate our influence in the world and the value of what we're doing. But anybody who takes it too seriously is pretty foolish to be honest; they're missing the point quite radically."
Shortly after our interview, Clarkson sparked a national outcry in Britain when he first sarcastically suggested that striking public sector workers should be shot in front of their families. He then referred to those who take their own lives by jumping in front of trains as "Johnny Suicides," leading to predictable calls for him to be sacked. "Jeremy largely talks bollocks," says May. "So I wouldn't take any of that too seriously."
Nicknamed "Captain Slow" because of his more cautious driving style, May is slightly less bombastic than the misanthropic Clarkson or the acerbic Hammond, who famously nearly died after a dragster crash in 2006.
"To some extent, Top Gear is founded on the very fundamental differences between the three of us," he says. "It's like a pantomime or a sitcom, so it's like we're playing caricatures of ourselves."
Along with Top Gear and Man Lab, May has also recently answered the mysteries of life in James May's Things You Need to Know and explored the legacy of his beloved Airfix and other childhood hobbies in James May's Toy Stories.
"Various people have asked me to do documentaries about science and history and I'd like to do some more of that but there just isn't the time at the moment," he says.
"Maybe I'll do that when I slip more gracefully into TV's mature years, which I'm sort of looking forward to. Maybe then I'll start doing those slightly more considered, highbrow things that mature men are supposed to be doing rather than just mucking about. But I don't know what that is yet and maybe they won't want me anymore, so who knows?"
James May's Man Lab (Hachette $60) is available now.