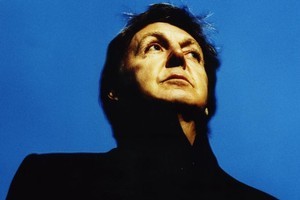 Sir Paul McCartney is writing a track for a computer game as he thinks it is the best way to reach young people with his music.
The Beatles legend is excited to be working on the music for the as-yet unnamed game, as it is a "fascinating market" and a good way of getting his music heard by a younger generation.
He told German newspaper Die Zelt: "That is the song I am working myself to death with at the moment.
"I was asked whether I could imagine doing something like this, and I found it exciting. Besides, it is a fascinating market. These days a new computer game sells much better than a CD. And you reach an entirely different target group. This way many young people will probably listen to my music for the first time while playing a videogame."
While Paul, 69, is keen on embracing new technology to present his material, he is still a traditionalist when it comes to writing new songs, such as Valentine, one of the two new tracks included on his latest album Kisses from the Bottom.
He explained: "I wrote it during my holiday. To be more precise, in the hotel's lobby. There was an abandoned piano in the lounge, it was an afternoon after lunch, all the guests were away, the staff were cleaning.
"I sat down in front of the piano and started playing randomly. I had the melody and most of the text after one and a half hours."
McCartney praises his dad James - a keen amateur piano player - for introducing him to music growing up in Liverpool when the family had to make their own entertainment.
He explained to Culture magazine: "My first musical memories come from my dad. He would play the piano at home - he and his friend Freddie Rimmer, both of whom worked at the cotton exchange in Liverpool as salesmen. This was the old days, you know. We made our own entertainment because we didn't have anything else. And those old memories for me are of my dad playing the piano. I would lie on the carpet listening to him and taking it all in."
Paul revealed his father's influence stayed with him as he and John Lennon began writing for the Beatles.
He said: "A lot of what informed the writing I did with John is that early period, and John and I shared that. When we started to talk about that music, John would say 'Oh I love such and such a song.' We didn't like rock'n'roll solely. And I think now if you look at the Beatles body of work it was sort of rock'n'roll informed by this back plot from this complete other era."
Kisses from the Bottom is released on February 7.