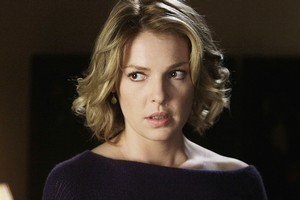 Katherine Heigl has annoyed her neighbours by keeping her Christmas lights up all year.
The Knocked Up actress and husband Josh Kelley upset neighbours of their home in the mountains of Utah in 2010 by failing to take down their festive illuminations, which led to community leaders leaving the couple a "civilised note" asking for the lights to be put away.
Katherine said: "I put up lights for Christmas and I love them - they're jovial and they make me happy - and so I leave them up all year. It's the mountains. Who cares?"
The couple were asked to turn their Christmas lights off in January, but the blonde beauty was so annoyed at the request that she left them up until July.
She added: "They didn't like that so much. They asked me to turn them off in January... So I took 'em off in July."
Katherine is no stranger to outbursts after she slammed comedy movie Knocked Up - which sees her play a woman who has a baby after getting pregnant from a one-night stand - as "sexist" in 2007.
But last year the 33-year-old star admitted she is sometimes too "sarcastic".
She explained: "I look at some of what I had to say, and I'm like, 'Oh my God, I would tell myself to shut up too.
"I've never really been America's sweetheart. I had 'em for a second thinking maybe I was. And then I opened my mouth, and it was very clear I wasn't. There's so much of my mother's caustic, sarcastic, irreverent take on things.
"But I also love and embrace it."
- BANG! Showbiz