As the end credits roll on the year in cinema, here, in alphabetical order, are the 20 movies that TimeOut reviewers thought mattered most.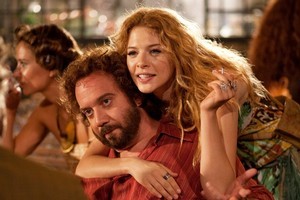 BARNEY'S VERSION
Director: Stephen J. Lewis
Canadian comic novelist Mordecai Richler's laugh-a-page "memoir" of a foul-mouthed Montreal Jewish television producer made for a rollicking film thanks to Paul Giamatti's ferociously energetic performance as the politically incorrect Barney Panofsky, a man desperate to set the record straight (or perhaps crooked) after an ex-cop's accusation that Barney got away with murder. The film was about Barney's lifelong struggle to be worthy of the love of his third wife but most of the interest centred on his relationship with his father (Dustin Hoffman) and it was a joy and a privilege to see them together. (PC)
BRIDESMAIDS
Director: Paul Feig
Filled with hilarious lines, honest observations on friendships, and an impressive amount of projectile vomiting, this raucous wedding comedy proved the girls can do irreverent just as well as the boys. Its success was due to a comedy cast taking stereotypical characters and making them uniquely funny, and the spot-on chemistry between leads Kristen Wiig and her Saturday Night Live cohort Maya Rudolph, who improvised brilliantly off each other.
Comedy of the year. (FR)
CAVE OF FORGOTTEN DREAMS
Director: Werner Herzog
German director Herzog's trip below ground to look at 34,000-year-old cave paintings was the year's best demonstration that 3D can be thrillingly, dizzyingly useful rather than a gimmick. The sensuous curves of wall seemed close enough to touch and, even in 2D, the flickering lamplight on images of eight-legged bison created the inescapable impression of movement and sustained Herzog's claim that these painters were the first animators. The Chauvet-Pont-d'Arc cave in the Ardeche, just north of Marseille, was discovered only in 1994 and has been closed since - so the film allowed us to see it as it has always been. (PC)
DRIVE
Director: Nicolas Winding Refn
To many, the epitome of movie cool this year was Ryan Gosling clad in a silk scorpion print bomber jacket, brown leather driving gloves and toothpick firmly clenched between his teeth ... and carrying a hammer for reasons other than carpentry. His no-name was a Hollywood studio stuntman moonlighting as an expert getaway driver in Cannes-winning Danish director Nicolas Winding Refn's chilling crime thriller. And while Gosling's performance made his no-name loner an inscrutable enigma, Albert Brooks' casting against type gave Drive the year's best big screen villain. (RB)
THE FIGHTER
Director: David O Russell
Christian Bale didn't have the title role in this deeply enjoyable boxing drama, but it was his film from start to finish. It took a while to realise just what was driving his jittery, goofy character, but his mesmerising performance never demanded our sympathy and the film as a whole was so packed with incident and character that it easily transcended the confines of its genre. With more than the requisite amount of thrills on the canvas, it also excelled as a potent human drama and the supporting performances were sublime as well. (PC)
GET LOW
Director: Aaron Schneider
Robert Duvall at 80 showed he can still hold a screen, playing - in a role apt for a swansong - a man who wanted to be present at his own funeral. The bare facts of a true tale were spun into a tall story which was both a gothic fable and a winningly off-key valentine to the sell-sell ethic of the American dream. As Felix Bush, a hairy and ornery hermit who makes the financially stressed local undertaker (Bill Murray) a tempting offer, Duvall reminded us of his ability to always have so much going on beneath the surface. (PC).
HARRY POTTER AND THE DEATHLY HALLOWS, PART 2
Director: David Yates
After 10 years, eight films and four directors it was finally over. This series started with a bang, and ended with a slick 3D visual assault; a breathtaking, thrilling, dark and satisfying conclusion to the juggernaut that was J. K. Rowling's fantasy series. Starring a who's who of British acting talent, it wasn't until the final two films that its young stars began proving they could act, and much of this finale's intensity was due to a strong and dramatic performance from Daniel Radcliffe as the boy wizard. (FR)
THE KING'S SPEECH
Director: Tom Hooper
David Seidler's screenplay massaged the chronology to pleasing effect, making the story about the battle to beat the speech impediment afflicting the man who would go on to become King George VI into a likeable buddy picture. Colin Firth's multiple garlanded performance as Albert, Duke of York was nicely matched by Geoffrey Rush as the deliciously irreverent Australian speech therapist who came to his rescue. The film was a perfect period drama but its triumph was that it presented its characters not as historical exhibits, but as three-dimensional humans who put flesh on the bones of history. (PC).
LOVE STORY
Director: Florian Habicht
German-born Habicht has made some quintessential cinematic Kiwiana but his new film could probably never have been made anywhere but Manhattan. If it had been only a sustained exercise in romantic whimsy it might have palled, but it had about it his trademark dark playfulness: it was never entirely clear quite how impromptu the action was and whether both he and his muse and collaborator Masha had the same perspective on what was going on. New York is not exactly noted as a city of love but Habicht, irrepressible optimist, sought inspiration from everyone he met and struck romantic gold. (PC)
MELANCHOLIA
Director: Lars Von Trier
The latest mindbender from the headline-making maverick Danish director managed to be many things - apocalyptic sci-fi, unhinged family saga, and an affecting evocation of the crippling effects of depression. As exasperating as it could be as it shifted through all those stages, the two sisters - Kirsten Dunst as the despairing Justine and Charlotte Gainsbourg as the solid supportive Claire - at its centre brought a human touch to all its big ideas. And Von Trier made it look like nothing else on earth, especially when he delivered his frighteningly beautiful vision of the end of world. (RB)
MY WEDDING AND OTHER SECRETS
Director: Roseanne Liang
Director Liang parlayed her 2005 autobiographical documentary Banana in a Nutshell into a goofy and charming cross-cultural romantic comedy without a false note in it. Her avatar was Emily Chu (Michelle Ang), a geeky overachiever who falls in love with gweilo James (Matt Whelan). Emily, simultaneously self-centred and anxious to please, was the beating heart of a film drenched in unaffected charm, whose breezy confidence was reflected in its bright colour palette and a whippet-lean script. Happy evidence that our movies were at last reflecting our multicultural make-up. (PC)
NEVER LET ME GO
Director: Mark Romanek
The screen adaptation of Kazuo Ishiguro's masterly 2005 novel captured the timbre of the original perfectly and yielded the horrifying truth at its heart only slowly. It was neither as delicately nuanced nor as elliptical, but it remained faithful to the spirit of the sci-fi parable about the suspiciously sheltered students (and later alumni) of the faintly Dickensian boarding school, Hailsham. In using its dystopian context as the setting for what would otherwise have been a conventional romantic triangle, the film became a haunting meditation on loss and the evaporation of the dreams of youth. (PC)
OF GODS AND MEN
Director: Xavier Beauvois
This haunting and masterful French film, the 2010 winner of the Cannes' no 2 award, was inspired by the slaughter, by Islamist terrorists, of seven French Trappist monks near their monastery in Algeria. But wisely scriptwriter Etienne Comar did not attempt docudrama, rather using events as the basis for an intelligent and deeply moving meditation on the nature of faith in a time of crisis and the wisdom of non-resistance in the face of extremist violence. Drawing the viewer deeply into the monks' world, the film, especially in the unforgettable final scene, achieved something approaching transcendence. (PC)
THE ORATOR
Director: Tusi Tamasese
The first truly Samoan feature film - entirely in the Samoan language and written and directed by a Samoan - was an unexpectedly powerful and impressive achievement, a sort of Pasifika High Noon whose hero was a dwarf who had to quite literally rise to the challenge of proving that the bonds of love can sometimes trump those of blood. So deeply rooted in its location as to be synonymous with it, the film benefited from Leon Narbey's sublime cinematography and a patient and observant pace perfectly matched to its story. (PC)
RISE OF THE PLANET OF THE APES
Director: Rupert Wyatt
The surprisingly smart sixth and captivating sequel to the 1968 classic paid mischeviously entertaining homage to that first flick with its alternative take on how the whole ape-supplants-man-as-dominant-species farrago started out. That involved James Franco as a brilliant biologist, John Lithgow as his Alzheimer's- sufferer father and a show-stealing performance by Andy Serkis as Caesar, the digitally rendered, superbrained chimp who did for this instalment what Charlton Heston's angry astronaut did for the first. (RB)
SARAH'S KEY
Director: Gilles Paquet-Brennerid
One of a clutch of recent French films confronting the truth of the country's shameful complicity with the occupying Nazis, this harrowing drama spun off the infamous Vel d'Hiv roundup of Jews in July 1942 to explore the way the ripples of those events spread through generations and how silence can turn family history into a corrosive force. Elegantly crafted and superbly acted (Kristin Scott Thomas was as assured and emotionally lucid as ever) the movie, based on a best-selling novel, unfolded its secrets slowly and lent an original inflection to a familiar genre. (PC)
SENNA
Director: Asif Kapadia
Just as Ayrton Senna rose above being just another fast driver in his decade of Formula 1, this film of his life rose above being just another sports doco. Yes it has the advantage of inbuilt poignancy - that the Brazilian champion died racing in 1994. But using only footage of his life - largely retrieved from the official F1 archive - with occasional soundbites from those who knew him, this plays more like a thriller than obituary. Watching his life flash before your eyes made for the most enthralling sports doco in years. (RB)
SUPER 8
Director: J.J. Abrams
This alien thriller played like a Spielberg tribute band - but a eerily good one with Abrams delivering a rip-roaring adventure about a bunch of midwest kids in 1979 trying to save themselves from a monster from outer space as well as the military forces trying to recapture it. The real thrills were't just about revelling in the throwback Spielberg-iness of it all, but seeing it all unfurl through those kids' eyes and feeling like you were part of their little gang. (RB)
TRUE GRIT
Director: Joel and Ethan Coen
The Coen brothers added a western to their collected works in various genres with a film that wasn't quite a remake of the 1969 John Wayne film but a bleakly funny reworking of the original Charles Portis novel about plucky 14-year-old Mattie Ross (Hailee Steinfeld) out to avenge her father's frontier death by hiring the wizened bounty hunter Rooster Cogburn (Jeff Bridges) to help her find the varmint what did it. Steinfeld's motormouthed performance was terrific as was Bridges, as yet another grizzled geezer, one who was equal parts Dude and Duke. (RB)
X MEN: FIRST CLASS
Director: Matthew Vaughn
In a year of new big-screen comic book newbies - Thor, Captain America and Green Lantern - the best superhero flick was actually this throwback. The original X Men screen franchise might have outlived its usefulness with its trilogy and Wolverine spin-off but this prequel, which dragged the story back to its 1960s Atomic Age origins, was a stylish, funny and highly enjoyable return to the days when Professor X and Magneto were the best of mutant mates. (RB)
* Reviewers: Peter Calder (PC), Russell Baillie (RB), Francesca Rudkin (FR)
- TimeOut