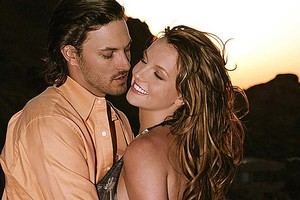 Kevin Federline is "really happy" for Britney Spears.
The dancer - whose two-year marriage to the Hold It Against Me hitmaker ended in 2006 - is pleased the singer has announced her engagement to her ex-manager Jason Trawick, as the former couple's children Sean Preston, six, and Jayden James, five, "speak highly" of him.
Kevin said: "I'm really happy for her. I think he's a great guy.
"I've heard a lot about him. I've spoken to him quite a few times as of now. He seems like a really good guy. The kids speak highly of him and her family loves him."
The 40-year-old star explained Britney - who announced her engagement on Friday - is doing "really well" and admitted her public meltdown in 2007 tore his heart "to pieces".
Speaking of the period, Kevin said in an interview with Australia's TV Week magazine: "She's happy; she's doing really well. I want to say she's in a good place.
"It was tough. They were just very, very, very dramatic times. I had to do what I had to do for the safety of our children. But at the same time, it tears my heart to pieces to watch your ex go through that, let alone watch anybody go through that.
"It's horrible. It was a completely dramatic, depressing stage of my life that I'm so glad I'm over and get to leave behind. It was tough."
- BANG! Showbiz