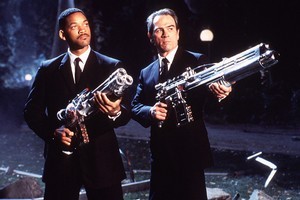 We all know Hollywood is a business, but at the same time we expect Hollywood not to revel in this fact or indeed shove it in our faces.
Which is kind of what it felt like when the trailer for Men In Black III was released this week.
Is there a single person out there who is clamouring for this film? Men In Black II was released almost 10 years ago and was undeniably a giant stinker.
No biggie. Leave it be and move on. But no.
Clearly the Men In Black franchise still had enough of a presence in market research reports to warrant a follow-up in the studio's eyes.
There was no fan campaign; no underground network of MiB fans demanding petition signatures; no flash mobs featuring sunglass and suit-wearing MiBers.
It exists purely and solely for commerical reasons.
The impression is of a dead horse being beaten well after it has expired.
I'm generally pretty relaxed when it comes to Hollywood's tendency towards remakes, sequels and game/toy-adaptations. Part of me has accepted the way brand recognition drives blockbuster cinema, and I enjoyed GI Joe: The Rise of Cobra. Unironically.
But there's that, then there's Men In Black III.
I shouldn't be too cynical I suppose, after all this film does feature rising Kiwi film presence Jemaine Clement (barely in the new trailer through) and has a 1960s time travel element that might enliven the proceedings. But I ain't getting my hopes up.
So what are some of the other least anticipated sequels of all time?
MIB III carries a similar whiff to Pirates of the Caribbean: On Stranger Tides, which arrived with character goodwill and a chance to make up for the bloated earlier sequels. No such luck.
The same stink hung over Rush Hour 3, which arrived six years after the previous film and appeared to exist just as a reason to get Chris Tucker out of the house - the Rush Hour movies are the only films Tucker has appeared in since 1997's Jackie Brown.
The Whole Nine Yards (2000), the Matthew Perry/Bruce Willis comedy thriller beloved by nobody somehow got a follow-up in 2004. Anybody up for part three?
I don't think anyone came out of Transformers: Revenge of the Fallen eager for more giant robot action, but again market forces delivered us this year's Dark of the Moon. Damn you market forces!
1998's Lethal Weapon 4 felt like a victory lap for all involved, and managed to wring the last drop of danger out of Mel Gibson's once iconic character, Riggs.
I never understood why they made a sequel to the painfully derivative Underworld, but it must've found an audience, as they made another one (shot in New Zealand) and a fourth film is coming out next year. Sigh.
Am I wrong about this? Are there hordes of you out there eagerly awaiting Men In Black III? What do you consider the least warranted sequels of all time?
- Herald online