One-time English pub-rocker Nick Lowe has enjoyed a rare second career. He talks to Graham Reid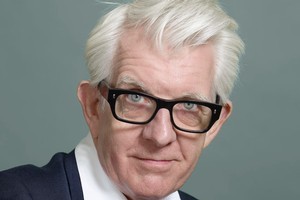 At 62, with broom-brush white hair and a son aged 6, Nick Lowe - who uses words like "highfalutin"' - wouldn't seem to be one to "get down with the kids", as he jokingly puts it.
But this fine English singer-songwriter and producer - who started out in pre-punk pub-rock and country-rock, was a producer for Elvis Costello and Dr Feelgood, wrote the minor classic (What's So Funny 'Bout) Peace, Love and Understanding at the height of punk fury (covered by Costello) and enjoyed a cult following and critical acclaim for his album Jesus of Cool in 1978 - has had a second life since his very considered albums since 1994's The Impossible Bird.
He may write adult songs steeped in classic country and Sam Cooke-styled balladry about bitterness, marriage break-ups, being controlling in relationships and loneliness but lately he's been before a different audience at the invitation of Wilco, who had him as an opening act.
"I was quite astonished when asked," he admits, "but I thought it was a bold and interesting move on their part.
They could have had any cool young gunslinger, but me? I didn't know how I would be received.
"I was anxious to put myself in front of their audience, an audience I am interested in ingratiating myself to because they are in their 30s and 40s and are musically literate. Although my audience is changing, I'm starting to see much younger people and a lot more women, and not so many old blokes with grey pony tails.
"They're still welcome," he laughs. "However with Wilco I thought I might go on and off to the sound of my own footsteps, but the reception was fantastic."
Lowe says he kept the rockabilly out ("that seems to frighten the youngsters"), sang his lovely new song of loss House For Sale, omitted the really dark stuff like Failed Christian and Faithless Lover but added Costello's Alison ("a lovely song, who wouldn't like that?") and his own minor hit Cruel to Be Kind.
Anyone who saw the good humoured Lowe in Auckland with Ry Cooder two years ago will delight in his return for a show with his own band where he airs the quietly sophisticated and sometimes gently ironic recent songs and peppers in re-upholstered old favourites.
Lowe's career is long, complex and in its early decades was punctuated by his irreverent humour. On Jesus of Cool he sang about silent movie star Marie Prevost being eaten by her dogs (an exaggeration), released I Love My Label when he clearly didn't (which Wilco covered and invited him on for) and after David Bowie released Low, Lowe released the EP Bowi.
But that irreverence, although enjoyed by fans, became tiring so he consciously tried to eliminate that tendency. He now crafts his songs more carefully and lives with them over a longer period: "I think it's finished when it doesn't sound like I've written it, like I've learned a cover".
The results are more rewarding for him and his more mature audience, yet when Jesus of Cool and its follow-up Labour of Lust were given expanded CD reissue recently he confronted his old self again.
"I could recognise the person there but was listening to Jesus of Cool through the cracks in my fingers really. I was hearing good ideas but also padding and knew I could have found a more elegant sentence to get the meaning across. Or when I was sticking in a line of nonsense because I was too lazy.
"But to many people that's what gave it charm. For me, it was like a Super 8 movie of yourself as a teenager drunk at a party. It's the same person and by no means am I contemptuous of that person, I think I did some pretty good stuff back then."
These days Lowe is on a very different career high. His recent albums of his "new period from The Impossible Bird onwards have gone into the black" and his most recent, The Old Magic, has garnered critical praise and significant sales. People who have never bought a Lowe album have come in for this one, he says.
He admits while promoting The Old Magic that " some of the posher magazines have been interested in talking to me".
Because he is a senior British statesman in pop, the survivor who matured with elegance and wit?
"I think so," he laughs. "There's a fine line between the wonderful old trooper who has never quit and stayed true to his craft and the clapped out has-been who should just knock it on the head. They see me as a good story.
"I don't feel like an anachronism because I seem to be attracting a younger audience. I always thought I could do something natural to me and get it hip enough so youngsters who'd got ears to hear would be attracted to it.
"I didn't want to be condemned to be always doing what I did when I had my time in the sun."
Lowdown
Who: Nick Lowe and band
Where: Powerstation, March 31, (fully seated concert)
Trivia: Although once an in-demand producer Lowe admits: "I was never really a technical bloke, I was more interested in waving my arms around and getting people at it".
-TimeOut