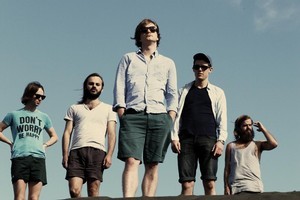 The Checks have a unique position in the local musical landscape. They're all still in their mid 20s, but they've been together as a band for nearly 10 years. A decade is a long time to commit to the same line-up, same instruments, and the same drive to keep creating music and performing. And they appreciate that.
"You can't shake something like that, no matter how hard you try," guitarist Sven Pettersen nods. "There's nothing to be nervous about after 10 years, you just pull up and do it. You don't need to be reserved with your opinions, and I think that's a great way to operate because it's time-consuming putting on airs and graces, you might as well just be honest."
They've always been accomplished on their individual instruments, but the five-piece think they've reached a point where their ability to create some musical magic as a group is right up there too.
"It's like if you had set moves in rugby you'd always know where each other would be if you'd been playing together for that long," explains singer Ed Knowles.
"You don't have to look to throw a pass, you know where shit's gonna be. And it's almost funny how often it's the same."
Not that they're getting complacent, or lazy, in their performance.
"You've gotta have your dark horse moments really," Pettersen laughs.
"When it's been this long, when someone shows up with something that you haven't heard or expected from them you go 'ooh, where'd that come from man? We've been hanging out, and I didn't see that coming'. It's nice to be able to trick each other and surprise each other."
They're a band who seemed to ooze talent and charisma from an early stage, natural born rock stars, even if they weren't sure what they were getting into.
Having all finished at Takapuna Grammar in 2005, and proven their musical prowess with a few infamous sweaty shows at Devonport's Masonic Tavern before graduating to the hallowed halls of bFM, K' Rd and Big Day Out. They released their first single Mercedes Children, and quickly garnered international attention. REM frontman Michael Stipe asked them to open their New Zealand tour and it wasn't long before NME magazine had them touring Britain as part of the New Music Tour. They moved to London in 2006 to record their debut, Hunting Whales, and released it through Sony BMG in 2007, playing an impressive 170 shows around the world in 12 months. Most of the band were only just 18 years old.
A little burnt out by the major label game, when it came to making their sophomore album Alice by the Moon in 2009 they opted to go it alone, producing, recording, and then releasing independently through their own label Pie Club Records.
Critics loved it (it was nominated for the inaugural Taite Prize and received the Tui for Best Rock Album at the 2010 Music Awards), as did the band, even if it didn't quite take the world by storm as it could have.
"It didn't sell as much as the first record, but who cares about that? I reckon it's a better record. Well actually, I dunno, I can't really say that because when we made the first one I thought it was the sickest record ever, and same with this one. It's just the period of time when you're doing it, you know that's exactly what you want to do," Pettersen muses.
The Checks' music has always been confident and decisive. Their third album Deadly Summer Sway, which was released on the auspicious date of 11/11/11, is no different in that respect, even if they do struggle to describe their aims.
"We never sat down and went, 'these are the sounds that we need [for the whole album]', you can just feel what the optimum sounds needed for each song are going to be," Pettersen says.
"There are threads that run through them all, and I guess what's at the end of those threads is what we should be saying to answer the question," Knowles laughs, "but we don't know what they are.
"It's just a feeling I guess, and if it's not the right feeling or colour or something, then it's not, and it wouldn't fit with Deadly Summer Sway."
The title itself is evocative of the album's direction - hypnotic, with an effortless groove, a little bit tropical, a little bit killer rock, and tracks that were built on instinct from jamming together for hours. And references have been made to David Lynch and The Stone Roses.
"We didn't say it so we don't know what they mean by it, but I can see how it relates to Candyman Shimmer and Winter Sun and stuff," Knowles nods.
"It was something about the space inside the music," Pettersen explains. "Enough space that you can think, or find a place for yourself inside of it as a listener. Because, severely dense shit can be great, but there's something quite inhospitable about it.
"I suppose that's what David Lynch does in his films, leaves enough space for you to come up with your own ideas."
When they released pretty fruity, but very cool first single Candyman Shimmer back in August, they included a short spiel: "It's about you and your stinking mate in a clapped out 1.3 litre Fiat Uno, chain smoking cigarettes, hooning past two slick fellas in expensive suits cruising the motorway in a silver Porsche. You pull your blue jumper over your eyes as you boost along and think about the Barbados coastline."
It's a brilliant image - you can actually imagine Pettersen in the Uno - but one which was actually drawn from a story told by bass player Karel Chabera while they were writing the album.
"Karel was sitting on the autobahn with his family in a nice big Mercedes, driving along at 180km, and then these two rancid little French guys in this absolutely clapped-out Fiat, smoking, with the windows down, just go 'pweoowwwwwmmmm'. They must've been going 200km/h or so in a car that can only do 230. I thought that was the best thing I've ever heard," Pettersen laughs.
"It's about going for absolutely everything when you've really got next to nothing, and it works. There's something attractive about the ridiculousness of it," Knowles finishes.
The Checks' vocalist has always been good at treading an unusual lyrical path, finding odd stories to address more universal themes, and he's at his best on a track like Dogs of Perfection.
"Well, Sven came up with the title and I just tried to write a story about facing a dog as a man. The dog has the killer instinct, and the ability to stand on its own four feet, and live in the wild, and it doesn't need anything. So he has the wings in his teeth, as in, he catches birds and so on, and in my jaw is cash, all I have is a society, and without that, and without brains, I'd have nothing and the dog would have it all over me. But because of the situation, and how we outsmarted them, it's different. The Dogs of Perfection are perfect by themselves and they don't require any assistance or, say, lattes, they're all good."
Much like the band, who are happy without a label, satisfied by their ability to play shows and release albums as they wish. They hope the future may hold opportunities to play summer festivals in Europe, and more shows in Japan (where they've had success in the past), but right now they're excited about finishing their "trilogy" of music videos, playing in the sunshine, and jamming once again as they soundcheck.
"I just got a new organ too," Pettersen enthuses. "Man, it's got some cool sounds. There's quite a lot of organ on this album but just wait until the next one, guitars will be obsolete by then, we'll be doing circus music."
And they could too - expectations aren't something that concern them, and when asked if they think their image has changed, Knowles is quick off the mark.
"Possibly round the midriff."
"It's not something that you think about," Pettersen adds. "We don't work with stylists or shoemakers."
They really are just natural born rock stars then. "Yep, one leg at a time."
LOWDOWN
Who: The Checks.
What: New album Deadly Summer Sway, out now.
Where and when: National tour under way, playing in Auckland at The Powerstation on Saturday, November 26.
-TimeOut