Chameleonic comedian Chris Lilley has returned with another bunch of confrontational characters in his new show Angry Boys. He talks to Lydia Jenkin.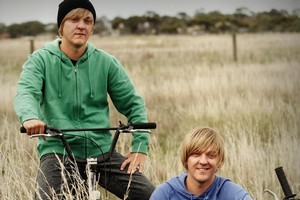 Chris Lilley's face - or faces - make him one of the most recognisable figures in Australian pop culture.
The 36-year-old's youthful visage has already proved highly adaptable to playing characters of just about any age, race, or gender. He's already won a huge fanbase with his cult faux-doco series We Can Be Heroes and Summer Heights High.
While those series have remained firmly focused on Australian characters, they've built a following in Britain and the US.
And in his new series Angry Boys Lilley has gone international with the show being co-produced by US giant HBO (with ABC in Australia) and screening on the BBC.
"It is a bit ridiculous, Lilley muses on the phone from Melbourne, "but it's just as exciting as it used to be. I have to answer to a lot more people now, and it's harder because you have to see it all through, you can't just play around with it in your head, but it's pretty thrilling."
Looking back to his own adolescence, Lilley says he and his mates says were mild delinquents rather than "angry boys" themselves.
They would act out scenes, or phone each other in character - those youthful pranks have now led to an international hit series.
The extra funding and international scope has meant Lilley has incorporated international characters for the first time to add to the Australian flavour, though the show revolves around teenage twins Daniel and Nathan Sims, who appeared in We Can Be Heroes, living on a run-down farm with their family.
"I just really love the character of Daniel; I thought he was the perfect person to explore further and have as an anchor for the whole series. I love the idea of a teenager who thinks he's the man of the house and he knows everything, and then he's faced with these issues of his brother who he's so close to, but pretends to dislike, and has this problem with Nathan being sent off to deaf school.
"I really love the relationship between the two twins, and Nathan always getting the last laugh."
To expand the world of Angry Boys, Lilley chose to create a selection of characters who are the heroes of the twins: their grandmother, who works as a Juvenile Detention Centre Officer; an ageing former surf champion; an Afro-American hip-hop star; and a Japanese skateboarding champion, whose mother becomes the subject the documentary makers follow more closely.
"I came up with this scenario where Daniel had all these posters on his bedroom wall - every teenage boy I met when I was researching the parts and going out to country towns, they all had these kind of shrines to their favourite celebrities and sports people all over their walls, and I thought, 'wouldn't it be cool if we could jump into the posters and the documentary would take us off into these other worlds'."
With rapper "S.mouse", he wanted to do something removed from any previous characters, and something that would be a challenge, as well as allowing him to get a little bit musical - Lilley wrote and produced S.mouse's songs in his home studio, and also wrote the theme music and all other incidental music. S.mouse's spoof hit single Slap My Elbow actually debuted (in the real world) at number 37 in the Australian charts and number 139 in Britain.
The character of Gran has also become much loved by audiences, her caustic exterior and political incorrectness giving way to a caring and perhaps even slightly obsessive nature when it comes to dealing with young male criminals.
"I decided to begin the series in the prison, because it's so instantly intriguing. All the questions come up, you know: why are we locking boys up, what have they done, this is such a weird world that we live in, and then you meet this crazy woman. At first you think she's a horrible tyrant who's just saying the most awful racist things, but then by the end of the episode there's been a big turnaround and hopefully you see that she's actually this really loving, caring person, a little misguided in her methods and from another generation, but she does really care about the boys and it's her whole life, it's everything."
She's a character that even the young men playing the inmates came to believe in. Lilley remained in character on days when he was shooting their scenes and often utilised an element of improvisation.
"Gran delivers a big speech to the boys at the end of the series, and the speech ended up being 10 times as long as it was in the script, but all the reactions from the boys are so real because it was their last scene for the whole shoot, so they had this whole experience with me and the crew, and you can see in their eyes - it's like they've fallen into the whole illusion of it all, and they're actually listening to everything Gran says.
"It's a weird thing where the show blurs into reality sometimes."
Though Lilley's life revolves around convincingly writing, researching and portraying these characters, he does manage to keep them separate most of the time - ideas are written down as they come to him in order to offload the characters, and he's got piles of books of material waiting to be returned to.
"It's funny too, because time passes in the real world, but for these characters it doesn't, they're still where I left them. They don't age."
Much like Lilley himself it seems, because his exuberance and enthusiasm for the characters and his fans, suggests he gets a great deal of joy from this endless game of make-believe, and won't be getting too old for it any time soon.
Who: Chris Lilley
What: New TV series Angry Boys
When and Where: Screening on Comedy Central, Mondays at 9pm
-TimeOut