What: Auckland Philharmonia Orchestra
Where: Auckland Town Hall.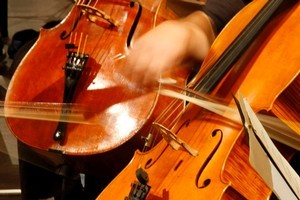 Little wonder that, at the end of Auckland Philharmonia Orchestra's Thursday concert, conductor Roy Goodman described the evening as a feast of Mozart.
Our entree was the Overture and a selection of ballet music from Idomeneo - a slightly truncated first course, without the Passepied and Gavotte movements.
Goodman responded to Mozart's irrepressible inventiveness with his usual flair.
Ever alert to pulsing syncopations or a dash of polonaise, he fired the players with his enthusiasm.
This man can create incident in an unpromising bar of crotchets and the minor key rush of the final Chaconne was exhilarating.
An all-Mozart programme may have been a major factor in attracting a large audience that spilled over into the choir stalls; but the presence of the charismatic Michael Houstoun was also a major ingredient in the evening's success.
Playing Mozart's A major concerto K 488, with the clearer, cleaner sound of the orchestra's own Steinway, Houstoun's authoritative performance would have pleased the composer, who once told his father that the ideal player should create the impression that he himself wrote the piece.
Houstoun did just this in the rippling grace of the first movement, unperturbed by sometimes wavering violin intonation and one particularly raw orchestral cadence.
A serene Andante finally broke out into a flurry of ornamentation, while the violins used bows where Mozart stipulates pizzicato.
After interval, Goodman took Mozart's final E flat major Symphony back to 1788, with tempi he later assured us were historic rather than hysteric.
Here, the disconcerting burr of violins did not intrude on the nobility of the opening Adagio while a radically swifter Andante made for some jaunty dances on the side.
The evening was not all Mozart's. Determined to "let Papa Haydn have the last laugh" Goodman took his players for a rollick through the Finale of Haydn's Symphony 99. Many of us applauded too early, caught, as happened two years ago, by the false ending. On that occasion he cried out "Gotcha!" from the podium; this time around - now that the APO family has got to know and cherish him - it was a fatherly "I warned you".