Jason Mraz is heading to New Zealand to spread the word, through his music, about saving our world, writes Scott Kara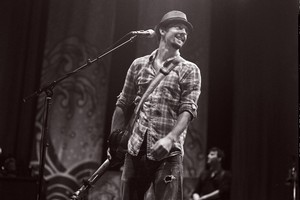 For an eco-warrior type guy, Jason Mraz sure is working up a hefty carbon footprint on his current world concert tour.
"We are bouncing around the world," admits the San Diego-based singer-songwriter, "and unfortunately that's not a good sized carbon footprint to have. No one deserves that size shoe."
Still, he's doing his bit to make up for the air miles since the tour is "celebrating music's lasting power to inspire change" - and generally encouraging you and I to take better care of the planet. Mraz started the tour at the Musicians United For Safe Energy (MUSE) benefit concert in California and at Farm Aid in Kansas City during August, then it was on to Europe for some eco-friendly festivals, and before heading to Auckland's Civic Theatre on November 15 he's played in Morocco and various parts of Asia.
"So we're very grateful to travel around to very extraordinary locations and share our music," he chuckles in his laid back lilt.
But never fear, Mraz is not on an environmental crusade and world-wide recruitment drive at the shows - he will let his tunes do the talking.
Although it was the troubadour's music - his most popular songs include 2002's Remedy (I Won't Worry) and the breezy I'm Yours from 2008's breakthrough album We Sing. We Dance. We Steal Things - that took a back seat last year when his charity work and philanthropic activities took over.
He recently set up his own foundation to push the cause of charities including Free the Slaves (dedicated to stamping out child slavery) and the Surfrider Foundation (protecting oceans and beaches).
Mraz also featured in the documentary film The Big Fix about the Gulf of Mexico oil spill which he describes as "incredibly depressing in a powerfully depressing way".
"It started out as a little movie about the gulf oil spill - and then [film-makers Josh and Rebecca Tickell] continued to trace what the problem was, and who was at fault, and it comes back to us and every time we pump our gas. So The Big Fix is about the overall problem."
"The solution," reckons Mraz, if you will allow him one moment of eco-warriorism, "is energy independence. It's using biofuels and using things that are 'sustainable'; that word, I hate to admit it, but I feel it's getting overused and people are not even hearing it any more, but there are fuels you can use."
Now though he's back and focused on the music with new single The World As I See It out, and the concert tour marking 10 years since his debut Live at Java Joes, an album recorded at the San Diego coffee house where Mraz started making a name for himself in 2001.
"When I listen back to that stuff," he laughs, "I think about a boy who would never edit a lyric he wrote." Which is one of the reasons album centrepiece Dream Life of Rand McNally is a spectacularly sprawling, nine-minute long singer-songwriter epic.
"The code, the moral, the meaning of the song requires every single one of those words and every single one of those words can give you a thousand meanings."
Well, that was his philosophy back then; over the past 10 years "I've completely retired many of them".
On the tour he will be performing acoustically with his long-time friend and collaborator Toca Rivera, a djembe drum player and singer he met at Java Joes.
They are an odd musical couple, with Rivera 20 years his senior, but they haven't stopped playing, recording, and touring together since they met back in 2000.
"It's an evening of harmony and brotherhood," says Mraz.
"He's such a dynamic individual, but he still gets nervous, and it's almost like he has this permanent memory loss to the point that we've probably played 5000 shows together but every show he does it's like the first time he's done it so there's a freshness to it. It's really exciting to go out and play with Toca and this show is an opportunity for us to be as expansive as we can be.
"We feel like we're brothers by choice. So we fight like brothers, and we love each other like brothers. But there is one thing we both have in common that's sincere, and that's a love of singing. It's the longest relationship I've ever been in."
LOWDOWN
Who: Jason Mraz
What: Singer, songwriter, philanthropist, and crusader
Where & when: Civic Theatre, Auckland, November 15
- TimeOut