Meat Loaf believes the world has gone to hell in a handbasket. So he might as well capitalise on it. Scott Kara reports.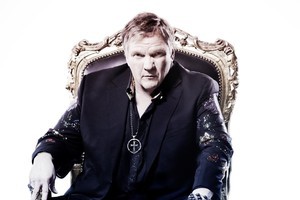 Meat Loaf really took the words right out of my mouth. Luckily it wasn't while he was kissing me. But during a 20 minute chat on the phone it was hard to get a word in. One of music's most theatrical - and passionate - stars showed he can hold the floor with ranting and raving ease.
TimeOut must point out that we talked to the Bat Out of Hell singer before his infamous performance at the AFL Grand Final earlier this month - by all accounts a lacklustre 12-minute medley where he failed to hit the high notes and mumbled into the microphone. So we couldn't pull him up about that ahead of his three New Zealand shows, the first two of which in Tauranga and Wellington are sold out, with his final date at Auckland's Vector Arena on October 29.
And he also refuses to talk about his venomous, verging on deranged, outburst at actor Gary Busey on The Celebrity Apprentice, which starts on Tuesday at 8.30pm on TV2.
Just in case you haven't seen the clip on Youtube, Meatloaf threw his toys when his paints went missing. It was quite a tanty. But apart from The Apprentice, anything goes - and the man can talk.
You can let him go on anything from his album failures ("It's like painting a painting, and it doesn't sell and you hang it on the wall and you look at it and go, 'Hey, damn good painting, too bad they didn't buy it. That's their fault'.") to his insistence that he has never done anything for the money. The 64-year-old, who is also a prolific actor, recounts how he got offered an "obscene amount of money" to star in a recent blockbuster. He won't name names but says after reading the script he didn't like the character and it added nothing to the film so he declined the role.
"They thought I was mad. To this day they still think I am mad."
And this is him on his influences. "I love the Stones. I love Dylan. I've listened to Gaga. But do I let them influence me as an artist?," he ponders. "Do I let anybody influence me as an artist? I do not. I stand on my own two feet. If they have influenced me it's in the form of a Joplin because when she took the stage, boy, she took the stage. Or Lawrence Olivier, the greatest actor of all time, because he never compromised himself as an actor ever."
You have to give it to him though, he can certainly perform (well, hopefully he still can). While tracks like You Took the Words Right out of My Mouth off 1977's classic Bat Out of Hell were great, drama-filled songs written by Meat Loaf's on-again, off-again songwriting partner Jim Steinman, the album would have been nothing without his live performance of them.
"If we'd have waited for radio to pick it up nobody would have touched it. So I developed this character to take it to the stage - and so there was this over the top, self-indulgent, over-indulgent character, and people related to him," he laughs. "And I think they related to the songs from that kind of intense performance.
"The live performance is what broke the record but without the songs it would have been nothing."
He jokes that back then the Bat Out of Hell concerts also became about "how long can this guy stand on stage and do this" since he weighed around 45kg more than he does today.
Meat Loaf and Steinman have seemingly had a tumultuous relationship over the years. Although he denies this and blames the "stuff in the paper" on Steinman's management "because they're always trying to get something".
"But I'm not going to play that game. It's not really me and Jim. When Jim and I have an argument they're never really arguments they're more like loud discussions. And we email each other every now and then and in the last one he said, 'Would you play Hook in the Bat Out of Hell musical if we run it up in the West End'. And I was like, 'Of course I'll be there'."
There will be no Bat Out of Hell IV however and "for the life of me Bat Out of Hell III should not have been done without Jim".
As you'd expect the thing Meat Loaf is most passionate about these days is his new album, Hell In A Handbasket. It's very different from his other 11 studio album because instead of playing a character as he has done in the past, it is the 64-year-old's most personal album yet. He opens up about his often turbulent and colourful life on songs like All Of Me and Party of One, with the latter dealing with the money grabbers and unsavoury types he's surrounded himself in the past.
"The overriding theme of the album is about people and their thinking about their rights to entitlement. It drives me insane. It drives me completely bonkers. The entire world has gone to hell in a hand basket over entitlement."
So Party of One is your own personal experience of that? "Well, no, I haven't lived that experience ... well, that's not true ," he laughs. "So yeah, when I was doing Party of One I went and grabbed some stuff, but I didn't take the time to analyse where it came from.
"The thing with this album is that everything is very method in the fact that everything on this record has been told from my life and things I've seen, been party to, or done and felt."
Lowdown
Who: Meat Loaf
On tour: Vector Arena, Auckland, October 29.
New album: Hell In A Handbasket, out now
Past albums: Bat Out of Hell (1977); Bat Out of Hell II: Back Into Hell (1993)
-TimeOut