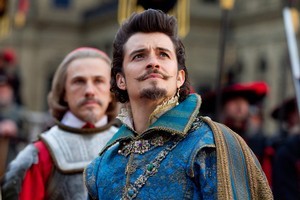 Every generation gets its own big-screen version of timeless epics such as The Three Musketeers, from Richard Lester's 70s two-parter to the Gene Kelly-starring 1948 opus. The latest cinematic incarnation of Alexander Dumas' swashbuckling romp, presented in spectacular 3D, is enhanced by a retro-tech sheen as air-bound dirigibles replace the customary battleships.
"The Three Musketeers is such a classic and, like a lot of classics, it's been adapted again and again," says director Paul W.S. Anderson. "People have been making movies out of The Three Musketeers for almost 100 years now but the difference between them all is that they're told in a slightly different way to reflect the times that they're made in. We're in a post-Pirates of the Caribbean-style world right now, where certain period movies have slightly hyper-real, modern-day settings."
Renowned for high-octane action flicks Resident Evil and Mortal Kombat, the Newcastle-born 46-year-old is making his first historical outing with The Three Musketeers.
Working from a script by British costume drama expert Andrew Davies (the BBC's Pride and Prejudice and Little Dorrit) and Predators' Alex Litvak, Anderson claims to have stayed fairly faithful to the 1844 novel. "We've taken a lot of what was great about the book," he claims. "It's a cracking story and the themes of the book are also the themes of the movie, which are friendship, loyalty, love and camaraderie.
It's a classic 'all for one and one for all'. Those themes never date, which is why the book still has currency over 150 years after it was written. We didn't want to mess with that but what we've done is introduce this modern gloss, which is where the visual effects, the airships and the slightly heightened action scenes come in."
According to Anderson, young hothead D'Artagnan and the perennial trio of Athos, Aramis and Porthos were the 007s and Ethan Hunts of their day. "In the 17th Century, the Three Musketeers were the best of the best," he explains. "If there was a mission that was totally impossible, you'd call on them. If someone has to go to London and bring back the diamonds in an impossibly short period of time, you send the Musketeers. I wanted them to have the kind of gadgetry that you'd associate with a Bond or Mission: Impossible movie."
Described by Anderson as "a coming-of-age story", the film features 19-year-old Californian Logan Lerman (Percy Jackson And The Lightning Thief) as the youthful D'Artagnan. "What I like about Logan is that for the first time in a Three Musketeers movie, D'Artagnan is played by a real teenager," says Anderson. "He was a boy in Percy Jackson but he becomes a man in this movie." British stalwarts Matthew Macfadyen (Spooks), Ray Stevenson (Rome) and Luke Evans (Tamara Drewe) respectively take on the roles of Athos, Aramis and Porthos. "They're all such nice people and it happened really quickly," recalls Anderson. "They all come from England so I spent a day in a hotel in London, having endless cups of tea and coffee, meeting lots of actors and saying 'I'm a big fan of yours, I'd love you to be in my movie'."
He also assembled an impressive supporting cast, which includes Inglourious Basterds Oscar-winner Christoph Waltz as Cardinal Richeleau, Orlando Bloom as the scheming Duke of Buckingham and Resident Evil star Milla Jovovich as treacherous femme fatale Milady de Winter. "I always thought that it was a shame that Milla hasn't been used in more period movies because she has such a classically beautiful face," says Anderson, who married the Kiev-born actress in 2009. "And if anybody was going to be able to pull off complicated fight scenes in tight skirts and corsets, it would be her. Christoph was the first guy to sign on and it was the first movie he took after winning the Oscar for Inglourious Basterds. He had seen the Gene Kelly [version of] Three Musketeers at school and just loved it. He saw the movie as just a big popcorn film and really wanted to be a part of it. It was a real coup to ask Orlando to play a villain but what I didn't realise was that he was desperate to do something like that after being in two of the biggest franchises in the world but always playing a good guy."
While it remains to be seen whether contemporary audiences will embrace his efforts, Anderson is hoping to return for the inevitable sequel. "We had a tremendous amount of fun making the movie, as you can probably tell, and there's nobody who wouldn't want to come back and have another adventure," he says. "We've actually only done the first half of the first book and Dumas wrote several books so there are plenty of adventures left for D'Artagnan, that's for sure." The Three Musketeers is in cinemas from Thursday.