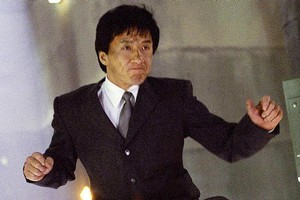 Not many actors get to make 100 films - especially if most of their roles involve all-in brawls, non-stop kung fu action and death-defying stunts.
But it's a milestone action movie maestro Jackie Chan will mark this week in New Zealand with the release of his 100th film, 1911.
A tribute to the 100th anniversary of the Xinhai Revolution, Chan stars as revolution leader Huang Xing in what is described as "a historical drama based on the founding of the Republic of China when nationalist forces led by Sun Yat-sen overthrew the Qing Dynasty".
Chan took a hands-on approach for 1911, also directing and producing the film.
But the 57-year-old star of Drunken Master and Rumble in the Bronx is known for performing all of his own stunts - often to his detriment.
Chan says his worst injury ocurred when he was filming Armour of God in Yugoslavia in 1987, when he jumped from a castle but missed a tree and landed on his head.
"A piece of my skull cracked and shot up into my brain, and blood poured from my ears," Chan writes on his official website.
He was saved by emergency surgery and now has a small hole in his head.
Check out the trailer for 1911:
This week's other notable release at the New Zealand box office is a concert film of the Red Hot Chili Peppers performing their recent album, I'm With You, in its entirety.
It's only in selected theatres so fans of the album will want to get in quickly.
But if you're only a fan of the Peppers' earlier work, especially funked-up rock tracks like Give It Away and Suck My Kiss, you might want to give it a miss.
Check out the trailer:
Elsewhere, Twilight fans will probably be the only ones who want to check out Taylor Lautner's newbie Abduction, which appears to be a dumbed-down version of the Jason Bourne flicks that's aimed directly at the actor's tween fans.
Lautner stars as Nathan, a teen who appears to be living the perfect life until his neighbour discovers his photo on a missing persons website.
The pair find themselves on the run as they attempt to discover who Nathan really is.
Abduction has had terrible reviews, with just a 25 per cent approval rating on review aggregate site Metacritc.
"A ridiculously cheesy confection filled with unthrilling thrills, bored-looking adults and a comically overstuffed backstory," said the New York Daily News.
You have been warned.
Check out the trailer for Abduction:
Also hitting cinemas this week is The Beaver, a film many will be put off from going to see because of controversial star Mel Gibson's leading man status in it.
That's a shame because The Beaver - in which Gibson plays a depressed toy company CEO who becomes a little too attached to a hand puppet - has been well receieved.
"It's a dark, powerful, haunted performance. You could even argue that Gibson's vile rants enhance its intrigue," said Total Film UK in a three-star review.
Check out the trailer for The Beaver:
Looking to switch the brain off? Wanting a cheesy date movie? Keen to inflict some punishment on your senses?
Then check out What's Your Number?, starring comedy featherweight Anna Faris (from The House Bunny) and Captain America's Chris Evans.
The basic premise is Faris, along with her hot neighbour, re-visits 20 past relationships in a bid to find Mr Right. You can probably guess the outcome yourself.
Don't do it, but if you must, here's the trailer for What's Your Number?:
Other releases you might want to check out this week include French holocaust drama The Round Up, Jet Li's The Sorcerer and the White Snake and Zookeeper.
- Herald online