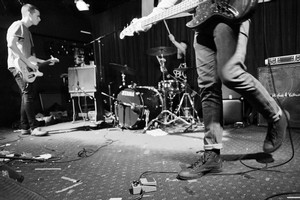 Twenty years ago I didn't want to be a record label boss. Then some guy came along who looked like he could be someone just down the road who played guitar.
He, along with his goofy, lanky bass-playing mate and Ringo-like drummer, basically cemented my love for alternative music. So you can imagine my excitement when 95bFM put on a night dedicated to Nirvana. Local acts, six in total, converge at the Kings Arms to pay tribute to their heroes.
Each band brought something a little different to the evening, but it was all underlined by the sound you have come to love from Nirvana.
X Ray-Fiends opened up the show with a cover of Love Buzz akin to Shocking Blue in terms of fuzz and tone, while Mean Girls' Zac Arnold destroyed an acoustic guitar after a 'tender' version of Something in the Way before going into their anarcho-noise set (complete with Rape Me and Stay Away).
$noregazzZm opted to mess around with Smell Like Teen Spirit, a testament to the love of that song in the mash-up world and how the song is open to different styles.
God Bows to Math oozed '90s charm, front man Martin Phillips well at home as he recreated the feedback intro to Radio Friendly Unit Shifter, while Sherpa were big favourites on the night with their choices of Aneurysm and Sliver, both sing-a-long favourites, and then Tourettes featuring Chris Rakete in full-blown grunge idol mode.
Each band was great - but it was the selection Nevernudes picked which had me geeking out the most. Oh, the Guilt, Old Age, Opinion - these were tracks I collected as a teen on Outcesticide bootlegs, which became part of With the Lights Out.
It hit home just how obsessed I am with the band - the whole night was just a fun occasion and a reminder just how important that band still is today.
What: Where are you Sleeping Tonight? A Nirvana Tribute Show
Where: The Kings Arms, Auckland
When: Friday, September 23
- Volume