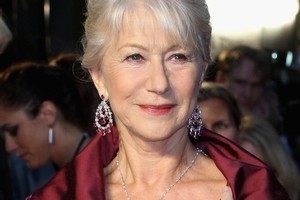 Dame Helen Mirren will always be "haunted" by the picture of herself in bikini.
The 66-year-old actress was photographed wearing a red bikini while holidaying in Puglia, Italy, with her husband Taylor Hackford in 2008 - and gained much praise for her trim physique - but she admits she is not enamoured by it because it is a "lie" and she does not look as good as the shot implies.
Speaking at a press conference for her new film The Debt in London yesterday, she said: "I think the thing that will haunt me for the rest of my life is that bloody photograph of myself in a bikini. In and of itself it is a lie, because I don't actually look like that, and I know that is going to haunt me forever. I will be forever trying to bury it, unsuccessfully."
The Debt star has previously revealed she is not a fan of plastic surgery and wouldn't be tempted to go under the knife herself.
And she is always shocked when young women have cosmetic procedures to improve their looks and bodies.
She said: "The only thing I don't like on young people is plastic surgery.
"The purity of youthful beauty is so fantastic to me that it's horrific when young girls get fake things."
- BANG! Showbiz