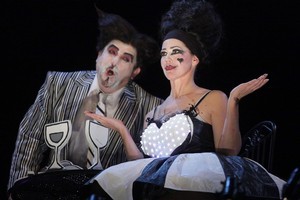 NBR New Zealand Opera's coupling of Cavalleria Rusticana and Pagliacci is a thriller double bill, unified into a stylish Sicilian saga of lust, violence, murder and memorable music.
In a night of star turns, John Parker's set is first to catch our eye; a central monolith cunningly revolves from scene to scene, adding new dramatic perspectives. Director Mike Ashman creates magical illusions in time and space by setting its turns against the movements of the cast.
Mascagni's Cavalleria Rusticana is all brute power and Anna Shafajinskaia is harrowing as the obsessed Santuzza. She exudes a wildness that is terrifying and yet her Voi lo sapete touches the heart.
Peter Auty's forcefully sung Turiddu and Marcin Bronikowski's Alfio complement Shafajinskaia's energy. There are more shivers when Bronikowski swaggers on stage with Il cavallo scalpita.
In smaller roles, Anna Pierard is a beguiling Lola and Wendy Doyle a sympathetic Mamma Lucia.
Ashman's masterstroke of setting the two operas on the same day in the same town has Pagliacci opening with Turiddu's body being removed. The bereaving Santuzza follows, while Lola lingers on the edge of the stage.
Warwick Fyfe's eerily baleful Tonio introduces the second opera with the irony of cabaret, warning us that the stage and real life are very different stories.
When we come to Pagliacci's play-within-a-play, it comes off brilliantly, as the singers have sketched their real-life characters so well. Rafael Rojas' blustering Canio is a small-town Othello revealing his vulnerability in a breathtaking Vesti la Giubba while Elizabeth Futral and Marcin Bronikowski captivate with their intensely lyrical duet.
The Auckland Philharmonia Orchestra, too, seems to appreciate Leoncavallo's more inventive score.
Mike Ashman's vision for Pagliacci has travelling players with heavy metal trimmings. Elizabeth Whiting's sleek costumes often frame tattooed torsos, while Futral's Nedda looks as if, any minute, she might launch into an Amy Winehouse song, instead of the shapely Oh! Che volo d'augelli.
Canio and Nedda's fatal sparring match, to the oohs and ahs of the marvellous Chapman Tripp Chorus, leads to the heart-stopping conclusion of this grimmest of commedia dell 'arte.
This production is a triumph for all concerned - a highlight of the city's cultural calendar, on both theatrical and musical grounds. Not to be missed.
Opera
* What: Cavalleria Rusticana and Pagliacci
* Where: Aotea Centre
* When: Until September 25.