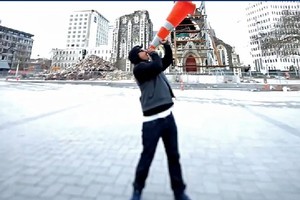 Not Many Cities is Scribe's moving tribute to the resilience of Cantabrians who have lived through more than 8500 quakes in the past year.
A remake of Christchurch-based rapper Scribe's 2003 double platinum single 'Not Many', the song celebrates the strength, the courage, the pride and the incredible spirit of the people of Christchurch.
An initiative of the Bank of New Zealand, all proceeds from sales of the song on iTunes
and Amplifier will go to Plunket Christchurch.
Elliot O'Donnell, the director of the clip, which is shot throughout the city including Cathedral Square in the heart of the CBD red zone, said Scribe was a natural choice for the charity initiative.
"It was really cool to get Scribe involved with this. I mean, there really couldn't be anybody else to come in and do what we're doing. It had to be him."
Scribe, whose real name is Malo Luafutu, was born and raised in Christchurch.
"I'm just honoured that I got asked to do it and of course I just jumped at the opportunity," Scribe says in the "Making of Not Many Cities" video. "I'm from Christchurch, I rep (represent) Christchurch all around the world, and Christchurch is my home no matter where I go."
Scribe's cousin, Jeff Sanft, 32, died in the February 22 quake when the bus he was in was crushed by debris in the central city.
Scribe said he had not been back to Christchurch since his burial.
"It was pretty moving being up in that red zone, a lot of emotions were going on as we got deeper into the CBD."
O'Donnell hoped the video would illustrate the strength of Cantabrians.
"I hope that what we do is not highlight the negative. I hope that we also present a vibe of optimism and highlight the strength of people's character here."
Scribe said Cantabrians "should never stop believing we are going to get through it - because we will".
"We're still fighting, we're still standing and I think it is going to take a lot more than an earthquake to really change that."

- HERALD ONLINE