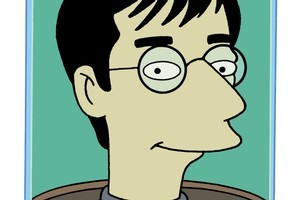 David Cohen has known Bender, Leela and Fry longer than he has known most of his good friends in Los Angeles.
The executive producer of sci-fi comedy animation Futurama was first introduced to them in 1998, when plotting the show with The Simpsons' Matt Groening.
Even then they were writing almost a decade ahead, as the first episode didn't air until 1999. Now they are writing episodes that should air in about a year or two.
Yes, there's always a fear - or maybe it's more of a deep-set hope - that some of the futuristic gadgets they come up with for the series will be invented, and then be passe by the time they get an episode out, Cohen says.
"It's often shocking to me to see how fast the future is coming upon us without us actually noticing. We started the show about 10 years ago and the world has changed a lot in that time. Things like the iPhone, Twitter and YouTube did not exist at all and are now part of our everyday life.
They're actually quite futuristic and cropped up while we were off-air."
It has opened the doors to new storylines, he says, and this season they were able to incorporate an "eye phone" (a device that fits over the eye) into the storyline of an episode called "The attack of the killer app".
"We've got all this material to work with that was not available when we started in 1999," he says.
The creative team spend a lot of time reading and watching science fiction for inspiration, but these days also find themselves whiling away hours in the wilderness of Google.
"A lot of Googling goes on in our writers' room, a lot more than is useful. A typical use of our time might be finding a cool graffiti of a chemistry molecule and trying to identify which one it might be. It turned out to be LSD."
The writing team is always working ahead, Cohen says, so part of coming up with new takes on the solar system and robots each season relies on the world itself changing over time.
Each script, once honed in the office, is recorded like a radio play with the characters voice-tracked, and is then passed to the animators who have six to eight month to turn it over. Which means the closest they can turn it around in is nine months though it's usually closer to a year.
It's easy to get a bit sketchy on the details with such a delay but Cohen says the writers are lucky that the show's crazy fans have compiled extensive fan-sites documenting every fact, quote and subtlety of the characters.
They have become a huge resource, he says, and he hopes the fans know the Futurama team is grateful.
Now in the second half of its sixth season, Cohen and his team are trying to fill in a few more details about the characters.
"We are trying to reward the long-time viewers with richer storylines," he says.
This means exploring the birth of Bender and the history of the serious design flaw. Cohen is also intent on answering the question of why Dr Zoidberg has hung around all these years, and to explain the history of his relationship with the Professor.
And then there's the whole Fry and Leila affair, which Cohen admits he hoped he would never have to explain.
"The DVD movies ended with Fry and Leila kissing, and to be honest, we thought we weren't doing any more episodes so wouldn't have to get them out of the storyline but suddenly we are."
Fry and Leila will analyse their relationship over the next couple of years, and Bender will only complicate matters when he is over-clocked to run as a super-computer, allowing him to see into the future. "It's tricky because we didn't think at first that the fans would get so interested in that relationship. But they have."
LOWDOWN
Who: David Cohen
What: Creator and executive producer of Futurama
When and where: Screening Four, Thursdays 8.30pm
- TimeOut